Whether you are a fan of online social networks or not, the truth is they're enormously popular for one simple reason, they make it easier for people to connect and share information. Unless you've been living under a rock, the likelihood of you being a member of at least one online social network is pretty high.
We first became involved in hair loss social networking when our sister site, The Women's Hair Loss Project (WHLP) launched it's all female hair loss network in January 2008. Today, The Women's Hair Loss Project site and Social Network is the most recognized site in the world for women suffering with hair loss, and ranks #1 in Google and Yahoo. WHLP has been featured in several publications and by media outlets including the New York Times, The The Atlanta Journal Constitution, and MSN.com. Dermatologists from around the world are now recommending The Women's Hair Loss Project to their female patients as a place to find support, compassion and understanding from those who can relate to their suffering most, other women dealing with hair loss.
As the first and most successful online social network in the hair loss industry, The Women's Hair Loss Project Network pioneered the concept of niche social networking in our field. While others have attempted to duplicate the Network, even utilizing the exact same software, The Women's Hair Loss Project has been the only hair loss focused social network to experience such mainstream success.  We are proud that our sister site has made such a groundbreaking splash and have been inspired by this success to create an online social Network for a niche community as well. We are proud to announce the launch of  HairTransplantCommunity.com!
HairTransplantCommunity.com is the first and only social network dedicated entirely to surgical hair restoration. This community is a safe and empowering place for hair transplant veterans, physicians and those considering hair restoration surgery to share their experiences, their struggles, their strength and their hope with others who understand. Share your hair transplant journey through video, blogs, and photos. Hairtransplantcommunity.com is your personal hair restoration network! I look forward to seeing you there.
Sincerely,
Spencer Kobren
I have spent countless hours researching hair loss including getting bombarded by television, radio, internet, etc etc. It's nice to be able to read a website (The Bald Truth & IAHRS) and listen to someone with obvious knowledge in the field. I know you always write a disclaimer in your emails that you're not a doctor but I'm willing to bet you know more about the subject of hair loss, physically and emotionally than 99% of the doctors out there.
I have 2 questions and I appreciate any time you put into responding. I am 32 years old and first noticed I started thinning when I was about 25. I haven't done a thing for it but to be honest it's been really gradual. I'm currently about a stage 3 on the scale (I forget the name) so it's definitely time to either "shave it or save it".
I am going to start using Propecia, hopefully I didn't wait too long to get that working. I'm just wondering about the 'shedding' phase. It doesn't mention it on the Propecia website and I haven't been able to find much credible information on this. I'm just wondering what the chances are of this occurring, and if it does happen how much shedding given the worst case scenario? [Read more]
It was a week or two before my 23rd birthday and while at work, I finally took a closer look in the mirror at what I believed were two extremely small bald spots at the temples. I thought it had something to do with my haircut, or the way my hair was combed, but even after my co workers told me it was nothing, I knew deep down that something bad was going on.
All my life I looked at my father's side of the families terrible male pattern baldness. Growing up however, I never ever once thought that baldness could happen to me. I just felt that I wasn't the type, and certainly didn't have the "look" to go bald. Over on my mothers side, along with my maternal grandfather, it's 100% full heads of hair. But fast forward a little over a year from that day at work, while having just turned 24, and my temples have now receded drastically to the point where I can barely cover them up anymore. Everyday is a struggle, having to worry about fixing my hair. [Read more]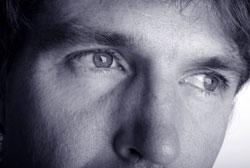 I wish I was one of those happy guys in the after pictures that I see on the internet, but I guess I'm not so lucky. Four years ago I had a hair transplant. I thought that I did my research by ordering a couple of brochures and DVDs from television and by reading the internet boards about hair transplants.
I went to three different hair transplant clinics to have face to face meetings, and I spoke with my family doctor before I made the decision to take the plunge. After a considerable amount of research I decided to go to a very popular clinic (I prefer not to mention the name) in Beverly Hills. I was so excited the day of my surgery. Everyone seemed so professional.
After I changed and was given some pills I was asked to sign a bunch of paper work. I was not told that I would have to sign anything more than I had already signed when I scheduled surgery. At this point I was a little out of it from the relaxation medication so I just kind of signed the papers and figured that there's no turning back now. I found out later that this was all the stuff that discussed the complications and the fact that there are no guarantees and such. [Read more]
My story begins about 15 years ago when I was only 19 years old. I first noticed I was losing some hair when my girlfriend at the time delicately told me that I should buy some Rogaine before I go completely bald like my father. I asked her what she meant by completely bald and she took me into the bathroom and give me a hand mirror and said to look at the bald spot growing on the top of my head. Talk about a kick in the nuts!  She then went on to inform me that she didn't sign up for this and that I should do something about it.
I wanted to kick her ass to the curb right there and then, but since I was now a newly balding guy I thought I would never be able to get a another girlfriend if I lost this one. As my hair loss got worse I could tell that my girlfriend was becoming less into me. She left me within a year and ended up screwing my cousin who had the mane of a god at this time.
This threw me over the ege so I decided to do something about it and had a hair transplant. This was the worst mistake of my life. The doctor suggested that I have 100 PLUGS placed in my hair line and that this will give me my hair back. I paid $2500 for the hair transplant and ended up looking like Joe Biden in the early days. I would say that this doctor almost put me into a metal institution, and had no remorse when I went back to show him what he had done to me. He said that it looked as expected and that I would need some more grafts to finish the job.
Now I was never told this when I paid him the first time. He told me that I would look great and that I would never have to worry about my hair loss again and that he has helped many young men in my position.
I lived my twenties looking like a freak of nature. Everywhere that I went without a hat people would stare at my head. I once got up the nerve to ask a girl from work out on a date and as I was asking her she was looking directly at my hairline, needless to say she politely turned me down.
I felt forced to undergo corrective surgeries that were all failures. My head looks like a road mark of scars and bumps with little plugs of hair sprouting out of it. The more money I spent the worse it got. It seemed like a never ending nightmare.
If it were not for the support of my family and a couple of close friends I do not know if I would be here today.  There were times that I wanted to just end it all. I would get drunk alone in my room and think about ways to do it.  I want the hair transplant doctors who may be reading this to know that if you ever did this type of disfiguring surgery on anyone in your past, that you might have destroyed a life. I want you to think about this and understand what you have done to another human being.
Thank God for my mother, she suggested that I try a hair piece and that her hair dresser also did hair replacement for men.  At first the idea of wearing a wig depressed me even more but what choice did have?
The women was very caring and had me try on a stock unit that she was going to return because the color was not right for one of her customers. The color matched mine so I let her put it on. She did her thing and taped it on my head. She began cutting and styling it and for the first time in 5 years I felt like myself again. It looked like real hair and it looked like my hair. I mean I knew it was a wig but for the first time in such a long time I felt I was looking like a normal looking guy in the mirror. It was surreal at first.
That experience has changed my life. From that day I've been wearing hair pieces. If had my choice I would probably just shave my head since there are times that dealing with hair pieces is a pain, but I have no choice since I was so badly disfigured, but this story has a happy ending.
Wearing a hair piece allowed me to get on with my life. About 2 months after I started to wear one I met my wife. She had no idea that I was wearing a hairpiece until I told her. That was not an easy conversation, but I had to tell her if I ever wanted to be intimate with her. She told me that she didn't like me for my hair and that she would never have known anyways. I still believe that if it were not for the hair piece that I would never have met the love of my life, advanced in my career or have 2 beautiful daughters.
I think about the doctor who disfigured me back then and wonder how many other young men he did this too.
I've had a very difficult road up until this point, but I do enjoy my life. I would much prefer not to have hair glued to my head, but I guess there are worse things.
Nick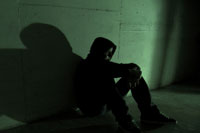 I am writing this on a Saturday night. Even 2 years ago I would be out on Saturday nights being social and loving it. I was a senior in high school then with absolutely no signs of hair loss, and looking forward to everything the future was going to bring me.
That was then, and now a completely different story.
I am ONLY 20 (not 25, 26) years old and within only 2 years have almost gone completely bald with diffuse male pattern baldness. Everyday my life is a struggle and its slowly ripping me apart. To make matters worse, there are no signs of hair loss in my family. Hair loss has changed my life so much its really amazing. People started making comments my first year of college and I just ignored it, but when my hair really started going I started to have panic attacks and soon I was forced to move back home and leave that college. [Read more]
Spencer: Thanks for what you do, my friend. I know I speak for many when I say we appreciate it. Here's my story.
————
I was 24 years old and enjoying an awesome career as a graduate student out of state. Graduation was eminent, and so were the lucrative job offers. Life was good. Nothing could mess this up.
That's until my genetics decided to rear their ugly head.
I'll never forget it. I was staying with my parents in California during Christmas of 1997. I was standing in front of a mirror one day brushing my hair, and my mom approached me to say something. To this day, I don't know what she wanted to say, because she was distracted by what she saw, and instead decided to say: "Tee-Jay, you're getting a little soft up here, huh?". She put her fingers near my frontal hairline.
Huh?!??! You're kidding, right mom? My hair is just wet and full of mousse, so of course it's looks soft right now. Regretfully, she wasn't kidding. During my Christmas break in California, I had the chance to see other family and friends. A few of them made similar comments. Right in front of me, a friend of the family looked at my mom and said "Tee-Jay is losing his hair up top, eh?". Gee, thanks, it's nice to see you too. A-hole.
I guess I was in denial about my hair loss until then. But, now with these comments so readily made directly to my face, as if I had no sensitivities at all, the fight began. My fight against hair loss.
Admittedly I hadn't a clue what I was doing when I started the fight. I left California for my last semester of graduate school. Shortly after I got there, I went to a hair salon for a hair cut. And guess what? The hair stylist decided to point out my hair loss, too. (Guess how much of a tip I gave him.). But he did get my attention. With my sensitivity about my hair loss so incredibly heightened after my trip home to California, this hair stylist knew just what to say. He said: "Have you ever heard of Nioxin?". Nope, never have. But he sold me on the fact that I needed to start using it to get my hair back. He said it will "bio-stimulate my scalp". WOW! Bio-stimulate? Sounds awesome. As a student I was pretty broke, and the Nioxin stuff cost 90 bucks. But I didn't even hesitate. I bought a bunch of Nioxin products. After all, I needed the bio-stimulation to get my lost hair back and to stop further progression. I remember using the Nioxin shampoo in the shower. It made my scalp feel VERY tingly, and I thought "It's working!". No more hair loss, I won the fight. Mind you, I'm a hardcore scientist/engineer type – I need data to understand and prove things. But not in this case, the word "bio-stimulate" and a tingly scalp were all I needed.
Unfortunately the Nioxin didn't arrest my hair loss as I originally thought, and the proof came 6 months later, when I graduated and moved back home to California. My family and friends, as sensitive as they can be, decided to point out my continued hair loss. UGH! This is supposed to be the best time of my life and it has been totally jacked with hair loss issues.
The next level of the fight began. I was watching late nite TV (I know you know where this is going), and there was this miraculous, never-ending infomercial from a big hair transplant clinic. Wow, they had the answers to everything. They made it look so easy. They had celebrities too. And they had these incredible before and after pictures! I couldn't stop watching and I couldn't wait for the nite to turn into morning, so I can find their nearest California office, and make my appointment. And that's exactly what I did. A few days later I was in their upscale California office, talking face-to-face with a NON-physician, who was telling me everything I wanted to hear. He said "So your hair loss is affecting the way you comb it? We can fix that with a hair transplant." Later a doctor came in, but by that time, I was sold. He could have said anything. What's amazing is they never recommended any sort of treatment plan. Never mention Propecia. Never mentioned Rogaine. Never mentioned how many grafts they would recommend for a hair transplant. So, I decided I'd get 800 grafts. I have no idea why or how, but 800 seemed like a nice number. A few weeks later I was in the chair, and almost $7000 bucks left my pocket. I remember being presented with a long, complicated contract on the day of my surgery, while I was in the chair, just before being anesthetized. I had to sign it to proceed. That seemed odd. Why wasn't I told about this 2 months earlier when I booked my surgery date?
The results of the hair transplant started to kick in a few months later, but since my hair loss continued (at this point I hadn't heard much about Propecia, and no one recommended it to me), the results didn't show too well. It was basically just a wash. And, the results I did get didn't look too natural. So much for the comment made on the infomercial: "Upon close inspection, no one will be able to tell". So why were people's eyes wandering to my head? Why did a hair stylist who was washing my hair say to me "so when did you get this done?".
So what did I do? I started to save money for my next hair transplant. I needed to fix this. I'm sure I just needed another hair transplant. A few years later, I went back to the same hair transplant clinic, ready to go. I said "I'd like the same doctor I had last time". (And I let them know his name, too). But he was not there. I was told that he may have moved to another location, and that it was common for doctors to change locations. Instead I consulted with another doctor. This other doctor seemed oddly anxious and excited, but for some reason, it didn't bother me. He said what I wanted to hear, so, that's all I needed. I booked a date for my next surgery.
Now, I'm a naturally very curious person, and something didn't seem right about the nonchalant nature in which I was told that my previous doctor may have changed locations. A few nites later, I decided to poke around on the Internet, to see if I can find the new location that my previous doctor went to. I couldn't believe what I found. He had quit working for the clinic some time ago, and was tangled in a lawsuit against them. He sued them. Many of the proceedings were freely available as public records, and the doctor had testified statements that blew my mind. His statements directly contradicted statements that were made in the infomercials, essentially claiming them to be false. The very infomercials that sold me! I was freaked out. I decided I didn't want to go through with my second hair transplant with this clinic, and called them to cancel my surgery. Interestingly, a few days after I called to cancel, I received a letter from the clinic, which contained the new contact information of my original doctor.
I felt stuck. I felt as though I exhausted all of my options. At least the options I was aware of. I was bound to be bald, with a little tuft of a mediocre hair transplant on top of my head.
Then, one day at an NBA game, I remember seeing a fairly pronounced advertisement near the courtside. It was a website address, and by the name of it, I could easily tell it was the address to a hair loss treatment clinic. I logged into memory. I checked it out later that nite, and felt very comfortable with what I read. The website belonged to a doctor's office. A small, private office. Not a big clinic where no one knows your name. I also learned that the doctor belonged to an organization called "International Alliance of Hair Restoration Surgeons" (the IAHRS). I checked out the IAHRS website, too, and liked everything I read. The website acknowledged the over-marketing hype of big hair transplant clinics, and how they seemed to prey on the emotional sensitivities of hair loss sufferers. Eight years after my fight against hair loss started, it finally felt like a wave of genuine empathy towards my hair loss suffering was flowing in my direction.
I scheduled a consultation with the IAHRS doctor a few weeks later. It was an awesome consultation. It felt so authentic, honest, and real. The doctor spent over an hour with me, and he never made it feel rushed. He taught me everything, about hair line design, follicular unit transplantation, density, available medications (Propecia), and more. He highly recommended that I start a Propecia regimen, and I did.
Two years after my initial consultation with the IAHRS doctor, once I put my finances and scheduling together, I returned for a hair transplant. The whole experience was smooth as silk. Total comfort. And unlike my original hair transplant, in which 90% of the procedure was handled by technicians, with very little presence of the actual doctor, this IAHRS doctor was VERY present – 100% of the time. He led the whole surgery, start to finish.
As of this writing, I am about 6 -7 months post op, and the results are beginning to show. The slight plugginess of my previous hair transplant are softening, and I am getting some nice density. My youth is coming back. I consider myself very lucky, because I almost proceeded down the path of multiple hair transplants with a clinic that didn't feel to me as though they truly care about their patient's results. Who knows where I would have landed and how much money I could have spent. But circumstances changed the course of my fight against hair loss, for the better.
I'm 35 now. I'm on Propecia, and I've had 2 hair transplants, with the 2nd one being the only one I ever want to remember or talk about, because it was awesome, and the results are awesome. The IAHRS doctor is phenomenal, a true advocate of his patients, and a good, pure-hearted, empathetic man.
And that's my story. I hope my story helps any hair loss sufferers from avoiding some of the pitfalls and traps that are out there, and leads them into a legitimate treatment program that suits them the best.
Good luck in your fights my friends. And be strong.
Tee Jay
Dear Spencer Kobren,
I thought I'd share my hair loss story with you. You might remember me from You-Tube. I asked you a question once and showed you some pics of my hair. I've called into the show one time before too. Thanks again for making such a great show. I watch it all the time on Stickam.
I heard about your MTV Hair Loss Documentary special and I would love to be apart of it. Here's my information. If you need any more info, just let me know.
My Hair Loss Story
I've been losing my hair for the past year or two. I was diagnosed with Male Pattern Baldness in 2007. My dad and his brother were both bald, their father was bald too. So I guess I got those bald genes too. I started to lose my hair at 19. It didn't get worse until I turned 20 though. I'm currently 21 now. I first tried Rogaine & Rogaine Foam, but that irritated my scalp and caused my psoriasis to flare up again. So I quit that. My dermatologist then put me on Propecia 1 mg. I tried Propecia for a year, I never missed one dosage. When ever I took a shower or combed my hair it would just fall out like crazy. I've heard Propecia can cause you to shed when you first start on it. I took it over a year and still lost my hair. My hair loss is all in my crown area and near my hair line. From what I've read online the type of hair loss I have is called diffuse male pattern baldness.  I still have hair, but it is very thin. It's getting to the point were it's hard to cover it up now. I try my best to make it look like I don't have any bald spots. When the wind blows I'm pretty much screwed! My friend's keep telling me to shave my head, saying it will grow back thicker. I think they are idiots, if I shave my head I'd look like an alien.
So of course I freaked out and tried all kinds of things to get my hair back. So far I haven't had any luck with any of them. I worry about my hair loss constantly. I feel like everyone is just looking at it. I know it could be a whole lot worse. To me though it's just horrible and like a horror movie! I feel like my youth has been drained away.
I won't give up the fight just yet. I'm currently taking Proscar 5 mg and cutting it in half. I still lose hair, but still have some left to work with. Hopefully one day I'll get some luck and get my hair back. If not then I guess I better get use to wearing hats. I could save up for a hair transplant, but those look way to risky. I wouldn't want someone sticking thousands of holes in my head.
-Jarrod
Spring 2001. It was the absolute worst time of my life. And it should have been one of the best times for me. I was 28 years old and had just finished my liberal arts degree at Purchase College just north of New York City. I was managing a video store during the day and doing my music at night playing with bands in and around central new york. Things were going really well. I had always been a shy person–and I basically still am–but I was beginning to come out of my shell socially. I was going out with friends, dating and having fun.
Now I knew my hair had changed a bit over the last few years–the v's had gotten a little bit deeper and the top was slightly thinner–but I didn't think too much about it. On some level I knew what was happening but denial is a powerful thing. I wasn't ready to admit to myself that I was destined to look like my father–a man with a head like glass. I remember catching glimpses of myself in mirrors here and there and thinking that my hair just wasn't laying right anymore. But I could still disguise it –still maintain the illusion of a full head of hair. I figured I had another five years or so before things got really bad. And by then I would be in my early thirties. I wouldn't care at that point ( yeah right!)
April 1st 2001. Yes I do remember the exact date. I remember this day like it was yesterday. That day of reckoning (when you finally realize that it's happening) is a life changing apocalyptic event. One that is forever burned into your psyche–permanently etched into your consciousness. Now for me that realization came when I was doing a gig at a music festival in Marathon NY. I was taking my keyboard out of the car when I saw my reflection in the window. My hair looked funky–funkier than usually. I mean really funky! It was weak and wispy, the recession in the temples looked enormous, and it looked like an island was starting to form in the front. I couldn't believe it! It wasn't even me staring back. This has to be some other guy…maybe my balding brother. The denial set it. Car windows are like fun house mirrors–they distort right? I bet that's all it is. But when I checked things out in the bathroom inside it was the same situation. I messed with it and messed with it to try to get it to look right–all to no avail. It was then that I realized what I guess I had already known: I had crossed that threshold. I now looked like a guy with thinning hair…a balding guy! Full panic mode set it.
Over the next few months I sank into a serious depression–total despondency!. I can remember sitting in my house thinking that it was over. From this point on, my life would never be the same, or so I thought. From now on I would be known as Dave the balding guy. Like somehow it would take over my life and be the thing that defined me over and above everything else. I'd be Dave the balding keyboard player in the bands I played with; Dave the balding manager of the video store; Dave the balding guy of the bunch when my friends and I were out at clubs. And I had hair envy too—big time! All my favorite movie stars: Pacino, DeNiro , Mickey Rourke. They were all guys with beautiful hair—super human hair. I wanted that too–desperately. Life was so unfair. I'd be at the supermarket or mall and I'd see an 85 year old guy with this full head of luxurious hair…better than I had when I was 12 years old. Now if that isn't a kick in the teeth I don't know what is. Couldn't I somehow trade with him I thought. I need that hair more than he does! Damn! The depression was all consuming. I was drinking every night –Johnny Walker black on the rocks. I'd go on these mean two and three day benders just to try to ease the pain and escape form the reality of what was happening. It was a horrific period for me: out in dive bars night after night drinking myself into oblivion, thinking about how I was going to find the guts to go on with my life–or if I even wanted to! I had gotten a speeding ticket during this time and was scheduled to go to court the following month to contest it. I remember thinking: I don't know if I've even going to be around next month! Honestly that is how bad things were.
Well after a few months I began to pull myself out of this downward spiral. I did research and discovered Spencer and The Bald Truth and I learned that it was now possible to successfully treat your hair loss. That gave me hope. I eventually became a part of the show and I've been beating this thing for the better part of a decade now. Seven successful years on Propecia ( knock on wood ) and my hair hasn't changed a bit. Thank God!
So I tell this story to show people just how profoundly we are affected by this disease of the spirit. Hair loss is something that colors every aspect of our lives. But we are lucky to be living in a time where we can do something about it. There are great options available: drug treatment, non surgical hair replacement and hair transplantation. Just be sure to educate yourself in order to choose the option that's best for you.
Good luck in the fight.
Hi Spencer,
I am writing you to tell you about the experience of losing my hair. At the age of 17, I began to notice my hairline receding. A girl at school teased me during an assembly about a bald spot I had on the back of my head. Others began to tease me as well. At work, the same thing began to happen. I desperately tried to cover up my hairline by combing the hair downward. Before work, I would cut hair from the top of my head and put it on the front.That didn't work so well. I had to drop out of school as a result. To make matters worse, I had a very young looking face at my age. I did not have the capacity to deal with the teasing at that age. What choice did I have? Balding at such a young age was devastating. Absolutely brutal! [Read more]