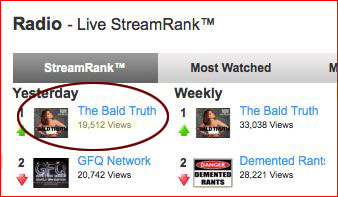 Close to 20,000 hair loss sufferers from around the world grabbed a chair and poured themselves a drink to join Spencer Kobren for the premiere of TBT's Tuesday Night "Drink and Chat." It was truly a momentous occasion, further illustrating the need for a completely objective platform, where those in need can meet to discuss everything and anything hair loss without the fear of being judged for voicing their opinions or concerns.
We'd like to thank online hair transplant legend and industry insider, Joe "Jotronic" Tillman, for joining us last night and helping us to make our first effort a tremendous success. We'd also like to thank all of the TBT fans who attended the live event, as well as all industry professionals who took the time to join in.
If you are interested in joining us next Tuesday, make sure to sign up for a free Stickam account so that you can join the video chat room. To sign up for your free account, go to http://www.stickam.com. Of course signing up isn't required to view the broadcast, but you'll definitely have the opportunity to engage more with the TBT crew, guests, and other viewers.
Also remember, you can now view the show and chat on your mobile phone. To learn more about this visit:
https://www.thebaldtruth.com/news/bald-truth-live-mobile-phone/
We look forward to seeing you next week!