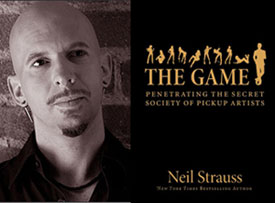 Finding your "inner game" is what separates those who allow hair loss to paralyze their lives, from those who choose to turn adversity into self evolution and opportunity.
This week on The Bald Truth, Spencer and Dave will be joined by New York Times best-selling author Neil Strauss, a man who not only chose to take charge of his own world, but decided to share his experiences with the rest of us AFC's (Average Frustrated Chumps).
Neil is best known as the author of the wildly successful book The Game, Penetrating The Secret society of  Pickup Artists, and is also the coauthor of three New York Times bestsellers: Jenna Jameson's How to Make Love Like a Porn Star, Motley Crue's The Dirt, and Marilyn Manson's The Long Hard Road Out of Hell. He is also the coauthor of Dave Navarro's Don't Try This At Home, a Los Angeles Times bestseller.
For those of you who think it's impossible to live and "love" after hair loss, this show is for you.
You won't want to miss this one!