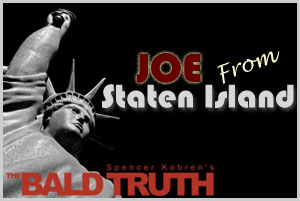 "There are victories of the soul and spirit. Sometimes, even if you lose, you win." – Elie Wiesel
For more than a decade, countless men and women from around the world have tuned into The Bald Truth in search of help, hope and the strength they need to cope with the emotionally devastating disease of hair loss. Our goal has always been to empower hair loss sufferers with the information it takes to make smart decisions when choosing to treat their hair loss, as well as to provide those in need with a safe place to discuss the emotional aspects of this neglected epidemic.
"There is life after hair loss," has always been the underlying theme of our program, but for many of the thousands of walking wounded left behind to deal with both the physical and emotional scars of outdated or poorly executed hair transplant procedures, life after hair loss can be a living hell.
When The Bald Truth premiered on New York's WABC radio back in 1998, we were introduced first hand to the emotional devastation that bad hair transplantation can cause when a retired New York City police officer from Staten Island called into the program to share his story.
"Joe from Staten Island" has called practically every week since, and has given so much of himself to ensure that what happened to him will never happen to another person.
Last week a couple of our listeners called in to thank Joe for his dedication and for his service, and we at The Bald Truth would like to take this opportunity to say thank you as well.
Thank you "Joe from Staten Island" for everything that you bring to The Bald Truth, and to the millions of hair loss sufferers who have listened to your insight and commentary throughout the years. The show would not be the same without you!
Listen to the segment: