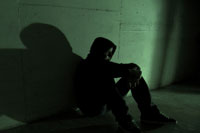 I am writing this on a Saturday night. Even 2 years ago I would be out on Saturday nights being social and loving it. I was a senior in high school then with absolutely no signs of hair loss, and looking forward to everything the future was going to bring me.
That was then, and now a completely different story.
I am ONLY 20 (not 25, 26) years old and within only 2 years have almost gone completely bald with diffuse male pattern baldness. Everyday my life is a struggle and its slowly ripping me apart. To make matters worse, there are no signs of hair loss in my family. Hair loss has changed my life so much its really amazing. People started making comments my first year of college and I just ignored it, but when my hair really started going I started to have panic attacks and soon I was forced to move back home and leave that college.
I have been on Propecia for almost a year and it has NOT helped at all and my hair loss is so severe I will not be able to get hair transplants. It has finally settled in that I am going to be a q-tip for my whole life and that I am going to be "the bald guy," and if it wasn't for my religious background I would probably have ended my life by now. Two counseling attempts have done nothing because "accepting my image and becoming content" is just not an answer for me. I go to school now, but spend everyday literally in a hat, ignoring people, and hiding.  I can t focus on my studies because I have no motivation and all I can think about is how I will always be the "feel sorry for bald guy." I have literally just "disappeared"  from my once solid group of friends, making up lies to them saying I have health issues.  I have an anxiety issue as well which makes it even worse. Hair loss has literally already killed me. I feel like a dead man walking. I have been robbed of my youth. All I ever really wanted in life was to be social, have friends, a family, and be content, and I will more than likely not even get that.  How am I suppose to go out in the world, get a good job, be social, be confident, try to start a family, when I am a repulsively looking young bald guy?
I really do believe that the absolute worse thing (not life threating) that can happen to a young guy is losing his hair.  The fact of the matter is, if you are young and losing your hair, your life is gonna change. You have no choice.  I am litterally sickened that there is nothing to really cure severe hair loss and that doctors just dont take hair loss seriously.  I feel so bad for young balding guys, if there are others out there (I hear about them but never see them) and just wish society would understand how devastating going through this really is.  Hair loss has taken my self esteem, my youth, my motivation, my friends, and my life. I just wish there was something that could be done.
Jake