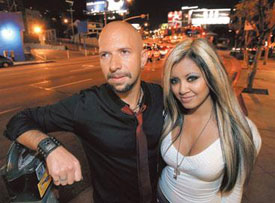 Last week Neil Strauss, author of The New York Times Bestseller, The Game, Penetrating The Secret society of  Pickup Artists, was gracious enough to spend the entire two hour broadcast with us sharing the story of his own metamorphosis from an average frustrated chump (AFC) into the world's best known, and most respected "pick up artist."
Since the program was so well received, we decided to archive the entire broadcast. If you're a hair loss sufferer who thinks that your receding hairline has extinguished your love life, think again!
This is an extremely empowering show and Neil was a truly inspirational guest!
Enjoy!
Segment One:
Segment Two:
Login To Bald Truth Talk To Hear Full Segment >>
Segment Three:

Login To Bald Truth Talk To Hear Full Segment >>