Fitness Icon Monica Brant Undergoes Live Hair Transplant Surgery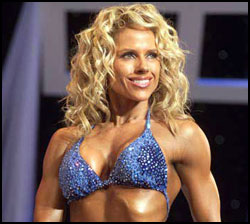 Since her first appearance as a cover girl for Muscle & Fitness Magazine in November of 1994, Monica Brant has skyrocketed to the top of the female fitness world. As one of the most sought after athletes and models in the field, the 2010 WBFF World Pro Figure Champion has been referred to as "the most important figure in the history of the women's fitness movement!"
On Tuesday, October 5th 2010 Monica Brant will be making history once again by being the first woman to undergo a hair transplant procedure LIVE on the World Wide Web. Monica has chosen IAHRS accepted hair transplant surgeon Dr. Dan McGrath of Austin Texas to perform the hairline lowering procedure, and has been gracious enough to allow cameras into the operating suite in order to share her experience with the world LIVE on The Bald Truth.
As always, we'll be taking your calls, and both Dr. McGrath and Monica Brant will be available during the broadcast to answer your questions.
The live broadcast and Q&A session begins right here on The Bald Truth at 1:30pm EST/ 10:30PST. The toll-free studio line is 1-877-885-0007
Hope to see you there!