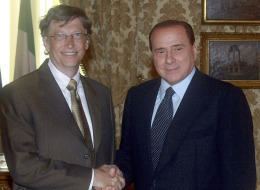 This week, Bill Gates made it perfectly clear that he was unimpressed with Silvio Berlusconi's foreign aid policy, declaring that the Italian Prime minster was on his "shame list." Fair enough, since an annual report published by Gates' foundation accused Italy of being "uniquely stingy among European donors." Italy's foreign aid budget was 0.11% of its GDP in 2009, half of what it was the year before. Even so, was it really necessary for the Microsoft founder turned philanthropist, to take a cheap shot at Berlusconi's decision to have a hair transplant?
In a moment of unabashed chastisement, Gates took the opportunity to tie his criticism of the prime minster's foreign policy to Berlusconi's personal decision to shell out  his own money for a hair transplant.
"Rich people spend a lot more money on their own problems, like baldness, than they do to fight malaria," Gates told the Süddeutsche Zeitung.