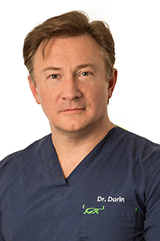 True & Dorin Medical Group, P.C.
499 Seventh Ave.
24th Floor South Tower
New York, NY 10018
Phone: 866- 424-7637
Phone: 212- 826-2525
Fax:      212 980-5696
– – – – – – – – – – – – – – – – –
1160 E. Jericho Turnpike
Suite 216
Huntington, NY 11743
Phone: 866-424-7637
Phone: 631- 271-9265
Website: http://www.hairlossdoctors.com
Email:  drdorin@hairlossdoctors.com
Dr. Dorin graduated Cum Laude with a Bachelor of Science in Bio-Chemistry from Stony Brook University, Stony Brook, NY in December 1993.
Following his graduation, Dr Dorin worked in the Pediatric Urology Department at Long Island Jewish Medical Center for 18 months as a researcher. Here Dr Dorin performed Northern Analysis on animal and human tissue searching for the expression of the Wilms Tumor gene.
Dr. Dorin pursued and received his doctorate at the New York College of Osteopathic Medicine in Old Westbury NY in May 1999.
In June of 2002 Dr Dorin completed a traditional rotating internship and his residency training at Good Samaritan Hospital Medical Center, West Islip N.Y.-Department of Family Medicine.
Dr Dorin first met Dr True in April of 1999, when Dr Dorin became a patient of Dr. True's. -It was from this relationship developed that eventually lead to an invitation by Dr. True to serve an elective rotation during Dr. Dorin's senior residency year., Upon completion of this elective with Dr True, Dr Dorin was invited to become an associate of Dr. True's in February 2002. (Pending completion of Dr Dorin's residency)
While an associate, Dr True served as Dr Dorin's mentor, as he imparted his vast knowledge and experience of hair restoration to Dr. Dorin. Two years latter Dr Dorin became a partner with Dr True of the True and Dorin Medical Group, P.C.
Dr. Dorin in board certified in Family Practice. He is a member of the: International Society of Hair Restoration Surgeons (ISHRS), AOA, ACOFP, and New York State Osteopathic Medical Society. Dr Dorin is certified in BLS, ACLS and ATLS. He plans to take the certifying examination in Hair Restoration Surgery when eligible in 2006.
Dr. Dorin is recommended by The American Hair Loss Association and The International Alliance of Hair Restoration Surgeons. Ask Dr. Dorin a question on The IAHRS Hair Transplant Info Center.