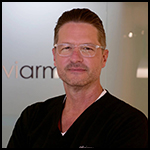 8500 Wilshire Blvd
Suite 1010
Beverly Hills, CA 90211
Phone: 310-652-6444
Fax: 866-607-6220
Website: http://www.alviarmani.com/
Email: eric@alviarmani.com
Dr. Hughes, born proudly into an Air Force family,  is a Fellow of the American College of Surgeons, and has practiced medicine and surgery for over 20 years. He served our country honorably as a trauma surgeon twice after the tragic events of September 11, 2001.
Michael Hughes, MD is board certified in General Surgery and is licensed in multiple states including California and Utah. He graduated from the University of Texas at Austin ( LONGHORNS ) with a degree in Biology and then obtained his medical doctorate from the University of Texas Medical Branch on a scholarship from the United States Air Force. Following his passion for surgery, Dr. Hughes performed a Surgical Residency and Thoracic Surgery Fellowship at Keesler AFB Medical Center in Mississippi.
Over the years Dr. Hughes developed an interest in the artistic aspect of precise microsurgical procedures and began practicing hair restoration surgery on the east coast. It was his surgical precision and devotion to patient care that led his path to AlviArmani Beverly Hills having been selected by Dr. Baubac Hayatdavoudi, CEO and Medical Director of AlviArmani International. Dr. Hughes was impressed by the artistic perspective and surgical techniques used and developed by AlviArmani, more importantly he was impressed by the exceptional results and pursuit of excellence in surgical and nonsurgical patient care.
Dr. Hughes has continued his rise in the field of hair restoration, advancing and refining his skills along the way Dr. Hughes has become an expert at FUE harvesting and the art of Vitruvian hair restoration. Today, Dr. Hughes routinely harvests 3,500 FUE grafts or more in mega sessions and dense packing restorations in Beverly Hills, maintaining the high standards of AlviArmani and Dr. Baubac and the entire surgical team, assuring that patients receive the artistically pleasing, high-density results that AlviArmani is known for world wide.
Dr. Hughes is recommended by The American Hair Loss Association and The International Alliance of Hair Restoration Surgeons.