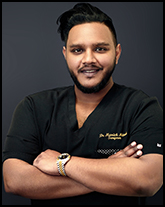 Mittal Hair Clinic
49 Mount Pleasant
London
WC1X 0AE

Phone: +442034889897
– – – – – – – – – – – –
Website: https://mittalhairclinic.com
Email: info@drmanishmittalhairtransplantclinic.co.uk

London-based Hair Transplant Surgeon Dr Manish Mittal MB ChB has built up his excellent reputation in various Harley Street Clinics as well as high-end private practises across the UK.
He currently treats patients in WC1 London, and Manchester. He has gone onto discreetly treated many high-profile celebrities and influencers using his signature techniques and methods. With only one client per day Dr Mani ensures he is hands on, only taking on one individual hair transplant case, and a personal interest in every single client.
He is experienced in both FUT and FUE however focuses specifically in the field of FUE hair restoration including hairlines, beards, eyebrows, eyelashes and has received a stream of only five-star reviews on Doctify, Google and Trust Pilot.
Graduating and completing his medical training from the University of Leicester, Dr Manish Mittal has worked through various surgery specialities including vascular surgery, orthopaedics and urology.
He has successfully a number of patients for their eyebrows, patients for afro hair transplants to beard restoration and general female and male hair loss.
Dr Mani has many professional memberships under his belt including FUE Europe, and the World FUE institution. He is also a member of the BMA and GMC.
Dr Mani chooses to use the sapphire blade known for its sharpness, smoothness and durability. Using this he uses the smallest blades which allows him to create near natural density. He focuses on building a hairline using the most natural directions, identifying the previous pores from which the hairs originally came through and mapping the design of rebuilding a hairline accordingly
He says: "While hair transplants are classed as cosmetic procedures, within 12 months you can change someone's life for the better. The confidence building from the results are transformative for the patient, it can save their marriages, their career, it can do so much for confidence and wellbeing and mental health – which is why I do what I do."
Dr Mani has seen a huge surge in female patients with a fifth of his current clients being women. The most common reasons for female hair loss can differ greatly to men and can be related to hormones, traction alopecia, telogen effluvium (pandemic-induced hair loss) as well as stress.
Instagram:
@dr_mani_mittal
Whats App:
+447868347718

Dr. Mittal is recommended by The American Hair Loss Association and The International Alliance of Hair Restoration Surgeons.