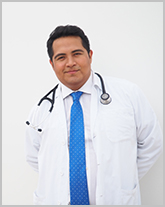 Instituto Médico del Prado
C/ Moreto, 5, Bajo Izquierda
28014 Madrid, Spain

Phone: +34 627 39 63 22 España 
Phone: +52 1 993 246 7607 México 

Website: https://drespinosacustodio.com/en/
Email: info@institutomedicodelprado.com
Dr. Hiram Abif Espinosa Custodio, Medical Director of Instituto Médico del Prado, has a degree in Medicine and Surgery from Universidad Juárez Autónoma de Tabasco, Mexico with Spanish registration number 0819494/2011/H07691 and Mexican professional license 6873754. After a few years working as a family doctor, he started in the field of hair transplants in 2016.
He is an expert in FUE + DHI techniques, accumulating hundreds of hair transplants with great success and satisfaction of his patients. He began performing the surgeries in different clinics until 2020 when he opened his own clinic in Madrid, Instituto Médico del Prado.
About his career, as we said, he graduated from Universidad Juárez Autónoma de Tabasco. Then, he came to Spain, where he specialized in Family and Community Medicine by the Ministry of Health of the Principality of Asturias.
After becoming interested in aesthetic medicine, he studied and completed different masters degrees such as Medicine and Hair Transplant by the University of Alcalá and Mississippi Institution, and Master in Aesthetic Medicine by the same university.
In addition, to complete his studies, he completed a master's degree in Clinical Dermatology at the University CEU San Pablo.
Since 2023, Dr. Espinosa Custodio has also opened the possibility of carrying out hair transplant surgeries in Mexico City. The doctor travels there twice a year with his team to perform surgeries.
It can be said that Dr. Espinosa Custodio is one of the most recognized young hair surgeons in the world. The doctor performs the entire surgery, both extraction and implantation, in addition to being the one who makes the diagnosis and assessment consultation. He also guarantees the results in writing and includes postoperative follow-ups until discharge.
He has a strict protocol to offer the highest quality standards. All his assistants in the operating room have studies related to medicine and nursing, in addition to having been personally trained by the Doctor. He performs sessions of around 1,200 follicular units per day, thus ensuring that all the grafts survive and are placed correctly, carefully choosing the direction, depth and position of each one of them.
Moreover, thanks to this method, the possibility of human error is considerably reduced, as fatigue does not take its toll on the team.
In addition to being recognized by the IAHRS, Dr. Espinosa Custodio is a member of the founding faculty of the Global Hair Loss Summit (2020) and belongs to other organizations such as the European Organization of Hair Restoration (FUE EUROPE), the Spanish Society of Aesthetic Medicine (SEME), the Spanish Society of Hair Restoration (SERECAP) and the Spanish Society of Regenerative Medicine and Cell Therapy (SEMERETEC).
It should be noted that he is a professor of the Master's Degree in Hair Transplant at the Catholic University of San Antonio de Murcia (UCAM) and receives doctors from all over the world to train with him.

Dr. Espinosa Custodio is recommended by The American Hair Loss Association and The International Alliance of Hair Restoration Surgeons. .