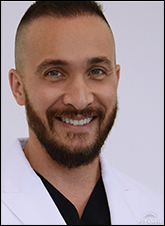 Varona Hair Restoration
2001 Westcliff Drive #206
Newport Beach, CA 92660
Phone: 949-631-4247
Website: http:/www.varonahairrestoration.com
Email: drvarona@VaronaHairRestoration.com
– – – – – – – – – – – – – – – – – –
Palm Desert Location
74-710 Highway 111, Ste. 102,
Lobby Level
Palm Desert, CA 92260
Fellowship trained manual FUE specialist with 11 years experience solely in hair transplantation. Dr. Varona does all the extraction himself, and offers physician placed DHI method of placing as well as traditional placing technique.
Growing up in a family of medical professionals, Dr. Christopher Varona spent his childhood immersed in his father's medical practice learning the ins and outs of patient care. By the time he received his Doctorate degree in Osteopathic Medicine from Midwestern , he was already an old hand in knowing how to take care of patients. He carried this knowledge with him through his residency at Northwestern University's Feinberg School of Medicine and, upon completion, into his medical practice.
As a kid Dr. Varona was already a skilled artist in his own right, attending a music academy during high school to foster his skill as a pianist. Today, he uses his innate artistic sense and skilled hands to help transform peoples' lives through hair restoration.
Although he originally worked in family medicine, Dr. Varona decided to change the course of his career when he underwent hair restoration himself. With a keen sense for the artistry and meticulous skill required by these procedures, Dr. Varona quickly learned the ropes and excelled in the specialty.
A diplomate of the American Board of Hair Restoration Surgeons (ABHRS), Dr. Varona is especially skilled in creating the most natural looking hairlines possible. In addition to his tremendous technical ability, he prides himself on being easily accessible to his patients and being able to empathize with them on a personal level, since he has also experienced hair loss himself, and ultimately, hair restoration.
Dr. Varona has been on the faculty of the Orlando Live Surgery Workshop for the past two years and is also part of the American Medical Association, the American Osteopathic Association, and the Illinois Medical Society. He enjoys traveling as much as possible, trying new restaurants, and investing in his personal health by dedicating an hour of each day to exercise.
"People place great value in hair and the overall contribution it places in an overall appearance. After I had my own procedure and felt that transformation from worrying about my hair to not even thinking about my hair, I knew I wanted to help other people overcome similar concerns while still doing something artistic and technically oriented." Dr. Varona
Dr. Varona is recommended by The American Hair Loss Association and The International Alliance of Hair Restoration Surgeons.