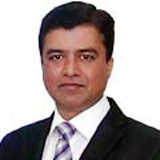 Dr. A's Clinic
B-104, Ground Floor
Chittranjan Park
New Delhi-110019
India
Phone: Ph.+911126274367/68
Phone: Ph.+911141315125
Phone: Ph.+91-9810178062
Phone: Ph.+91-9871700606
Phone: Ph.+91-9212136931
Website: http://www.fusehair.com
Email: fusehair1@gmail.com
Dr. Arvind Poswal, completed his medical studies from the prestigious Armed Forces Medical College, Pune (India). He is from an army background. His grandfather and father both were in the army and received several decorations and awards while taking part in many wars ranging from the World War 1, World War-II and 1971 war.
He himself served in the Army Medical Corps as Permanent Commissioned Officer from 1990 to 1996.
During this tenure he was a part of the Operation Prahar (anti- terrorism operations in Punjab) in early 1990's and later in Counter – insurgency operations in Rajouri on the Indo-Pakistan border (in Kashmir).
Over the past 15 years, he has contributed immensely in the field of hair transplant, whether it is technique, instrumentation or training. He is also the inventor of the stitch-less FUSE technique that has enabled numerous recent advances in the field of modern hair transplants. He is noted and lauded for having shared his knowledge and advances with leading hair transplant doctors worldwide. This has been appreciated by doctors from all parts of the world and from numerous specialties. He has also trained numerous doctors in the field of hair transplant, some of whom now work in the USA while others work alongside him at his centre.
MEMBERSHIPS & AFFILIATIONS
1 Founder Vice President of The International FUE society
2 Founder President of Society of Hair Transplant Surgeons (SHTS)
3 Member of European Society of Hair Transplant Surgery (ESHRS)
4 Member of International Society of Hair Restoration Surgery (ISHRS)
5 Member of Association of Hair Restoration Surgeons India
6 Founder Vice President (International relations) of FUE Europe Hair Transplant society
7 Member of Indian Public Health Association (IPHA)
8 Member of National Society of Cosmetic Physicians (NSCP)
9 Member of Indian Society of Cosmetic Chemists affiliated to IFSCC
10 Member of World Trichology Society
11 Lifetime Member of Continental Who's Who
AWARDS AND RECOGNITION
1 Life Time Health Achievement Award by His Excellency H. E. Mr.Waven William High Commissioner of the Republic of Seychelles.
2 Pride Of India Leadership Awardby His Excellency H.E. Sir AneroodJugnauthPresident, Republic Of Mauritius.
3 Best Hair Transplant Surgeon Award in Delhi, 2010 (by Padma Bhushan Shri Kapil Dev).
4 International Gold Star Millennium Award for the Best Hair Transplant Surgeon (by His Excellency Mr. Korn Dabbaransi, former Dy. Prime Minister of Thailand)
5 Bharat Gaurav Awardfor Outstanding Individual Achievements & Distinguished Services to the Nation (by Hon'ble Dr. J. Geeta Reddy, Commerce, Major Industries and Exports Minister of Govt. of Andhra Pradesh).
6 Indian International Achiever's Award 2010-11 for Health Excellence at New Delhi, India
7 Best Hair Transplant Surgeon in India by Famous Actor RazaMurad.
8 Indian Icon Award 2012for Best Hair Transplant Surgeon
9 Best Hair Transplant Centre in Delhi/NCR Award 2011by Time Media Group.
10 League Extra- Ordinaire Awardfor Best Hair Transplant Surgeon 2012 by famous actor Mukesh Rishi
11 Hairsite Achievement Award presented to Dr. Arvind Poswal and Dr. A's Clinic as Top ranking hair transplant doctor and clinic worldwide for having documented maximum number of successful hair transplant results on USA based Hairsite.com
PRESENTATIONS
Dr. Arvind Poswal delivers lectures and presentations on latest Hair Transplant technologies at various Medical colleges and at National and International conferences.
Some of them are listed below:
-Lecture and Presentation at Bakson's Medical College, Noida
-RNT Medical college, Udaipur
-ESHRS (European Society of Hair Restoration Surgery) June 2011
-AHRS (Association of hair restoration surgeons India) 2011
-International FUE Society conference Chandigarh 2012
-ISHRS (International Society of Hair Restoration Surgery)Oct 2012
-Lecture presentation about modern hair transplants at The Indian Salon Congress, 2013
-Delivered presentation about Modern Hair Transplant technology at Base Hospital, Delhi Cantonment
He was felicitated as keynote speaker at "International Conference and Exhibition on Cosmetology & Cosmetics" at Hyderabad International Convention Centre, India and he has also been felicitated by his peers around the world including:
Dr. James A Harris– MD, FACS & Director of the Hair Science Centre of Colorado (USA),
Dr. Ramachandran -President of Indian Association of Aesthetic Plastic Surgery and Senior Cosmetic Surgeon, Apollo Hospitals, Chennai and,
Dr. TejinderBhatti- Plastic Surgeon, Founder Secretary, FUE Society International & Joint Editor, Indian Journal of Plastic Surgery.
LIST OF PUBLICATIONS
1 Body hair Transplant –An additional source of donor hair in hair restoration surgery; IJD_53_09; Case Report
2 The Pre shaving Protocol in Body hair –to –scalp transplant to identify hair in anagen phase; IJD _112_06; Dermatosurgery Round
3 Expanding Needle Concept for better extraction of body hair grafts was published in the Indian Journal of Dermatology – Indian J Dermatol 2013;58:240
BOOKS PUBLISHED
1) "Hair Miracle" to help layman understand hair, hairloss and its natural care.
2) "How to get Lush hair after ChildBirth" helping to know effects of hormones on hair after childbirth and how it is responsible for hair loss.
3) "Hair raising experiences"
4) "Graft estimation in modern Hair Transplant"
5) "Psoriasis, Hairloss and Hair Transplant"
6) "Diabetes, Hairloss & Hair Transplant"
Besides this, he has appeared on multiple national TV channels including Doordarshan, AajTak News, Sahara National News, Shakti TV Health Live Program, Sadhna Channel and been hosted on the famous show, KuchDil Se, by MsSmritiIrani on Sab TV. His patient's interviews as well as live surgeries have been shown on Zee Business (The Weekend Edition Cover Story). The list of his satisfied patients includes patients from more than 15 countries around the world including many national and international celebrities.
Dr. Poswal is recommended by The American Hair Loss Association and The International Alliance of Hair Restoration Surgeons.