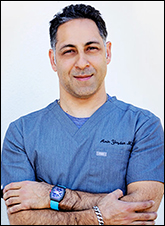 Modena Hair Institute
2121 E. Coast Hwy #170
Newport Beach, CA 92625
Phone: 949-374-2563
Website: http:/www.ModenaHair.com
Email: info@modenahair.com
– – – – – – – – – – – – – – – – – –
Modena Hair Beverly Hills
435 N. Bedford St
Suite #216
Beverly Hills, CA 90210
Phone: 310-601-1859
– – – – – – – – – – – – – – – – – –
Modena Hair Las Vegas
2629 W. Horizon Ridge Pkwy,
Suite #110
Henderson, NV 89052
Phone: 702-966-5134
Amir Yazdan, MD, is an internationally renowned hair transplant surgeon, pioneer of modern hair transplant surgery and founder of Modena Hair Institute – a center dedicated to advances in hair transplant research – with practices in Los Angeles, Orange County, and Las Vegas. Dr. Yazdan is a recognized innovator in the field of hair restoration, committed to state-of-the-art medical and surgical techniques. Known as the hair restoration gold standard, Dr. Yazdan only conducts manual extractions using the smallest possible punch, for purposes of maximum accuracy, aesthetic precision and natural-looking design.
A specialist in both FUE and FUT (Strip) procedures, Dr. Yazdan is one of the few physicians who routinely performs hair transplants for African American and ethnic patients. In addition, Dr. Yazdan specializes in repairing badly executed or botched hair transplants.
Awards & Recognition

Dr. Yazdan has made numerous appearances on television and in the media, including: Dr. Phil, The Doctors, The Bald Truth, OC Register, Mogul Insider. His experience, knowledge and skill earned him seats at the 2019 FUE Europe Congress in Manchester, England and the 2018 ISHRS 26th World Congress in Hollywood, California, among other distinguished congregations.
Professional Organizations & Societies

Dr. Yazdan is board-certified, a long-standing member of the prestigious International Society of Hair Restoration Surgery (ISHRS) and is recommended by The American Hair Loss Association (AHLA). He is also a member of the International Alliance of Hair Restoration Surgeons (IAHRS) and is the only such member practicing in the Orange County and Las Vegas areas. He has served as an expert consultant at prestigious hair transplant seminars and workshops in the United Kingdom, Europe, Asia, and the United States.
Surgical Specializations:

• FUE procedure
• FUT (STRIP) procedure
• BHT (Body Hair Transplant)
• Hair Transplant Repair
• Scar revision / Scar repair
• Beard transplantation
• Eyebrow transplantation
• Plug Removal
• Scalp Micro-Pigmentation (SMP)
Education

Dr. Yazdan studied at the University of California Riverside, before he received his degree of Doctor of Medicine at the Ross University School of Medicine. He completed his residency training at Kaiser Permanente in Riverside, CA, an affiliate of the USC Keck School of Medicine.
Modena Hair Institute – Center for Hair Restoration

Dr. Yazdan's flagship enterprise, Modena Hair Institute – Center for Hair Restoration, was founded in 2011 and is dedicated to the diagnosis and treatment of hair loss using the most advanced treatments and technologies. Modena operates three facilities located in Beverly Hills, California, Newport Beach, California and Las Vegas, Nevada.
Dr. Yazdan is recommended by The American Hair Loss Association and The International Alliance of Hair Restoration Surgeons.