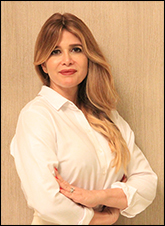 Street Socrates Nolasco
#6-B, Ens. Naco
Santo Domingo, Dominican Republic
Phone: 809-913-3255
Phone: 877-627-8449
Website: http:/www.albareyes.com/
Email: info@albareyes.com

As an expert in hair transplant surgery with 20 years of clinical experience, Alba Reyes is fully specialized in FUE and FUT transplant methods. She is among the first surgeons in Latin America to have become a fellow of the International Society of Hair Restoration Surgery (FISHRS), and the first in her region to have become certified by the American Board of Hair Restoration Surgeons (ABHRS). During 1999 she initiated her career as a hair restoration surgeon after extensive training in leading clinics in Israel, Canada, the United States of America, Brazil, and Spain. With the objective to offer the latest techniques to her patients, Dr. Reyes participates each year in international conferences and workshops.
Being the actual pioneer of hair transplant surgery in the Dominican Republic, for more than two decades, today she has a flourishing practice in Santo Domingo (Dominican Republic). Dedicating her practice exclusively to patients that are suffering from hair loss, has gained Dr. Reyes extensive experience on surgical and non surgical solutions. She is one of the few surgeons with substantial experience related to hair transplant techniques on all hair types and very frequent on curly afro-hair type, a knowledge and experience that is not wide-spread in hair transplant surgery.
Alba Reyes devotion to hair transplant surgery originates in part from her passions dating back to her early childhood. She enjoyed growing orchids in her parental home in Santo Domingo, with the intent to 'bring back to nature what you take from it". The notion of giving became a focal point in life, leading her to choose to study medicine at the Instituto Tecnologico de Santo Domingo (INTEC).
After graduating Magna Cum Lauda, Dr. Reyes went on to do her residency in dermatology. She became head-resident at the Instituto de Dermatologogia y Cirurgia de la Piel Dr. Huberto Bogaert Diaz, and was later awarded as "Outstanding Resident". She then received the Perry Robbins Scholarship by the International Society of Dermatology, due to her excellence in dermatological surgery. This was the basis to start her study in the hair transplant field, in Tel Aviv, Israel more than 20 years ago.
Visiting well-renowned hair transplant surgeons, and establishing good connections within the International Society of Hair Restoration, and FUE EUROPE – Hair Transplant Society, has helped Dr. Reyes to expand her knowledge and expertise in different areas of hair transplant surgery. She developed specialized skills in eyebrow and eyelash transplantation. Further expertise was gained in beard- and moustache transplants.
She has also visited and maintained professional exchange with leading specialists in the field, such as Dr. Walter Unger (New York) and Dr. William Rassman (New York).
Closely following technological advances within the last seven years, Dr. Reyes has shifted the focus of her practice to the FUE technique of hair transplant surgery. She has been attracting an increasing flow of patients from different parts of the world. She herself performs the surgery with her team that has been working with her for several years, while also taking an active part in supervision and quality control of extracted grafts, with the use of microscopes. Meticulous quality control of extracted grafts is vital to the practice of the FUE transplant technique, to ensure optimization of the follicles to guarantee an excellent and satisfying result.
For those patients that are not qualified for hair restoration surgery Dr. Reyes represents the prestigious Italian company "Cesare Ragazzi" that offers a custom made prosthetic, using natural hair and a mold that is made from the exact head's features, the results match the patient's own hair like when he/she was younger.
The modern equipped Hair Transplant Institute of Dr. Alba Reyes (Clínica de Trasplante de Pelo – Dra. Alba Reyes) is located in Santo Domingo (Dominican Republic), and attracts patients from all over the world, helping them in all possible ways to develop and realize their personal plan for what can be a life-changing operation. Affordable high quality hair restoration services, close to the USA and performed by an American Board certified surgeon is a win-win for any patient.
Dr. Reyes is recommended by The American Hair Loss Association and The International Alliance of Hair Restoration Surgeons.