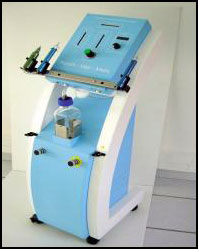 Follicular unit extraction (FUE) has come a long way since it was first introduced through The Bald Truth to North America by Australian hair transplant pioneer Dr. Ray Woods. Early adapters of the technique found it to be extremely labor-intensive when performed correctly, and limited by the number of grafts that can be safety harvested intact per procedure.
During the slow evolution of this technique, several automated devices have been introduced into the mix with varying degrees of success. However, no matter which device is used to help in expediting the extraction of intact follicular units, it's important to note that all devices are completely dependant upon the skill of the operator.
One FUE device that has been heavily marketed and has been receiving a great deal of press lately, is the NeoGraft hair transplant machine. Unfortunately, for unsuspecting hair loss consumers, some of the claims being made by the manufacturers of this device, as well as by some practioners who have purchased the device, are, in our opinion, questionable at best.
This week IAHRS accepted member Alan J. Bauman, M.D. is warning consumers that unqualified surgeons and non-medical practitioners may soon begin offering "NeoGraft FUE" procedures.
Notwithstanding the warning, Dr. Bauman is strongly supportive of the new NeoGraft device and was the first qualified hair transplant surgeon to utilize it in his practice. However, Dr. Bauman said he feels compelled to remind consumers that, as remarkable as he believes the NeoGraft is, it is still just a "tool" – and it is not a substitute for a qualified hair transplant surgeon and surgical team.
"How the harvested follicles (grafts) are handled by the surgical team and how they are artistically placed into the scalp by the surgeon still determines the naturalness, density and results from the procedure," Dr. Bauman said. "If the follicles are 'mishandled' by an inexperienced team of technicians or without appropriate magnification and instrumentation, graft survival may be impacted – thereby squandering precious donor hair follicles. Also, if the surgeon does not have an aesthetic sense and understand the subtle nuances of hairline design, the naturalness of the results can ultimately suffer. In the worst cases, these unnatural hairlines may require repair."
The bottom line: Hair transplantation is real cosmetic surgery, that requires a specific skill set of both the hair transplant surgeon and the surgical staff. If a single aspect of the process is compromised in any way, the outcome of the surgery can range from mediocre to disastrous.
See Issued Warning:
http://www.prweb.com/releases/2010/06/prweb4133794.htm