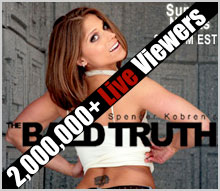 It's been more than twelve years since the The Bald Truth's first broadcast on New York's 770AM WABC, and as the longest running and most successful independent radio broadcast of its kind, the program has been said to have touched the lives of countless hair loss sufferers in search of honest advice and real hope.
This past Sunday, May 16th, The Bald Truth reached a critical milestone in the world of new media by becoming one of the most viewed, live weekly web casts on the internet, reaching more than 2,000,000 live viewers.
As broadcasting and media evolve so has The Bald Truth, and our ability to reach and to educate hair loss sufferers around the world. This recent milestone further underscores the need and the importance of unique and forward thinking resources to help better inform and support those in need.