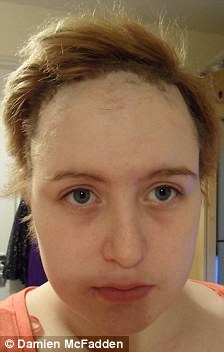 A devastated 19 year old administrative assistant says that her hair literally broke off at the roots after using Pantene Pro-V shampoo. According to Sophie Peppercorn of Perbourough, England, her hair fell out in clumps after only one application of the celebrity endorsed product, and has received very little support from Procter and Gamble, the makers of Pantene. Miss Peppercorn wept as she described to reporters what happened. "As I showered the bubbles from my hair I could feel a lot of it in my hands," she said.
She then went on to state, "But it was only when I patted my hair dry with a towel and looked in the mirror, that I realized the extent of the hair damage. My hairline had receded several inches where my hair had broken off at the roots. Meanwhile, the rest of my hair was so damaged and frizzy it was breaking off in handfuls. I was so devastated, I broke down in tears."
When Miss Peppercorn called the Pantene helpline to inform them of what had happened to her she was offered a £5(about $8USD) Pantene coupon for her troubles.
"Incredibly, they seem to think I will want to buy another bottle," she said.