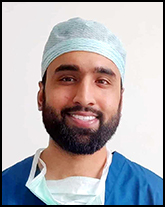 FueGenix
Bruinevisstraat 32
Unit 114, North Brabant
4611 HJ Bergen op Zoom
Netherlands
Phone: +31 6 83331555 
– – – – – – – – – – – –
Website: www.fuegenix.nl
Email: info@fuegenix.nl
In a short period of time, Dr. Munib Ahmad has become one of the most sought-after hair transplant surgeons in the world. A member of several prestigious societies, including the International Society for Hair Restoration Surgery (ISHRS) and the International Alliance of Hair Restoration Surgery (IAHRS).
After having worked at several world-renowned clinics, he has seen first-hand that there is so much more to be done when it comes to naturalness, quality and results. So he decided to start his own clinic where he could provide the best of the best.
At FueGenix, we believe that everyone deserves the best. We provide 100% guidance from the first mail contact to the last aftercare check, always in direct contact with Dr. Ahmad. You can be sure that he himself will guide you through every step of your procedure and make sure you have everything you need to get back on track as soon as possible.
Besides that, Dr. Ahmad carries out the FULL treatment himself (i.e. punching, extracting, making sites, checking the sorted grafts, and placing the grafts), unlike many others who do not perform all these steps themselves and therefore cannot guarantee optimal results. Dr. Ahmad's passion for this work is evident in every procedure he performs.
He makes a selection of specific hairs for the hairline to ensure that it is indistinguishable from a natural hairline even from a close-up and that no one can tell where the "new" hair starts or ends; this is an important part of achieving top-quality results from any transplant procedure because anything less would look "fake". This is something we strive for every day.
FueGenix, the new face of hair restoration.

Dr. Ahmad is recommended by The American Hair Loss Association and The International Alliance of Hair Restoration Surgeons.