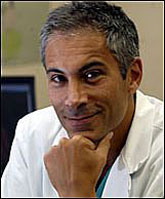 Foundation For Hair Restoration
1599 N.W. 9th Avenue
Suite 1
Boca Raton, FL 33486
Phone: 561-750-0525
– – – – – – – – – – – – – – –
6280 S.W. 72nd Street Sunset Drive
Suite 504
Miami, FL 33143
Phone: 800-370-2883
Phone: 305-666-1774
– – – – – – – – – – – – – – –
East Side Care Center
60 E. 56th Street
3rd Floor
New York, NY 10022
Phone: 212-759-3484
– – – – – – – – – – – – – – –
Website: http://www.foundhair.com/
Email: DrEpstein@foundhair.com
Facial Plastic Surgeon/ Board Certified by the American Board of Facial Plastic and Reconstructive Surgery; the American Board of Hair Restoration Surgery/ Fellow, American College of Surgeons
Dr. Epstein is considered one of the country's leading experts in hair restoration surgery by the plastic surgery community. A board certified facial plastic surgeon, Dr. Epstein has been specializing in hair transplantation since 1993. Widely published in the plastic surgery, dermatology, and hair transplant fields, Dr. Epstein is also a Voluntary Professor at the University of Miami. In addition, not a month goes by that he is not quoted by the media or press for his expertise in this field. More importantly, amongst his peers he is considered an expert in follicular unit grafting, reparative hair transplants, and hair restoration for women.
Dr. Epstein was recently the featured surgeon in a three-part series on hair transplantation that ran in Popular Science magazine. This series focused on both his work in follicular unit grafting as well as his anesthesia technique through the use of The Wand®.
Most important to Dr. Epstein is the respect and recognition of his patients. He personally performs all consultations and procedures, while his highly experienced team of assistants performs all microscopic graft dissection and assists in the planting. Only one procedure is performed at a time, allowing the attention to detail that Dr. Epstein promises all his patients. His office procedure suite is accredited by the Florida Academy of Cosmetic Surgery, complying with the new State of Florida Office Surgery Regulations to assure safety. This accreditation allows for procedures to be performed under mild sedation, or if patients choose, twilight sedation.
Some of Dr. Epstein's publications include "Hair Transplantation for Men with Advanced Degrees of Hair Loss" currently in press in Archives of Facial Plastic Surgery; "Hair Transplantation in Women: The Management of Female Pattern Hair Loss and the Repair of Scarring From Prior Plastic Surgery" currently in press in Plastic and Reconstructive Surgery; and, "Revision Hair Transplantation: The Repair of Prior Unsatisfactory Results" in Plastic and Reconstructive Surgery.
Dr. Epstein received his B.A. from Swarthmore College, then graduated from the University of Vermont College of Medicine in 1988. He then completed a 5 year residency in head and neck surgery at the University of Vermont, after which he was awarded a fellowship through the American Academy of Facial Plastic and Reconstructive Surgery, spending a year specializing in hair transplantation. Upon completion of his fellowship in 1994, Dr. Epstein received the highest score in the nation on the examination for the American Board of Facial Plastic and Reconstructive Surgery. In 1998, Dr. Epstein became certified by the American Board of Hair Restoration Surgery.
Over 50% of Dr. Epstein's patients travel in for their procedures. Located in South Florida, the office is fully bilingual English/Spanish, and has a large Latin American patient base, in addition to patients from throughout the United States. Over 80% of patients are referred from other patients, fellow physicians, or hair stylists.
Dr. Epstein is recommended by The American Hair Loss Association and The International Alliance of Hair Restoration Surgeons. Ask Dr. Epstein a question on The IAHRS Hair Transplant Info Center.