It's "official," women who use online dating sites to find romance are 5 times more likely to repond to a guy with a full head of hair… Wow, what a revelation!
Check out:
Women Prefer Men With a Full Head of Hair
Listen as Sam from New York tells Spencer and the crew how he conducted his own online experiment with similar results: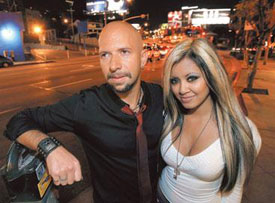 Last week Neil Strauss, author of The New York Times Bestseller, The Game, Penetrating The Secret society of  Pickup Artists, was gracious enough to spend the entire two hour broadcast with us sharing the story of his own metamorphosis from an average frustrated chump (AFC) into the world's best known, and most respected "pick up artist."
Since the program was so well received, we decided to archive the entire broadcast. If you're a hair loss sufferer who thinks that your receding hairline has extinguished your love life, think again! [Read more]
Spencer and Dave speak with one of the UK's up-and-coming leading industry insiders about his own personal struggles and triumphs with surgical hair restoration, and about the corruption and consumer fraud that permeates certain online hair transplant communities. 
Caveat emptor, Let the buyer beware

Spencer and Dave speak with the original master pick up artist Ross Jeffries, and takes a call from TBT fan Tee Jay. Tee Jay  believes he's been having trouble meeting and connecting with women because of his height and asks Jeffries how he can overcome what he considers a life long personal liability. To learn more about Ross Jeffries and speed seduction, visit: http://www.speedseduction.biz
Pick up artist and seduction guru, Wayne Elise, joins Spencer and Dave to discuss the art of meeting and connecting with women despite our perceived imperfections. Also known as "Juggler," Wayne is one of the best known experts in the seduction community and provides dating advice for men all over the world.
The Bald Truth super fan, Joe from Staten Island, calls into discuss getting into a brawl at a Billy Joel concert after refusing to remove his hat during the national anthem.
Spencer and Dave discuss the reality of body hair transplants (BHT) and speak with a 31 year old virgin who blames his hair for his inability to meet women.
Sexologist and relationship expert, Dr. Yvonne Fulbright, joins Spencer Kobren and Dave Solazzo to discuss sex and hair, qualities women look for and how to become more confident.
Part One:

Part Two:

Hairmax Laser Comb inventor talks With Spencer Kobren about several controversial topics surrounding the Laser Comb device, including the FDA clearance.
Part One
Part Two
Listen to the low level laser light debate between Dr. Alan Feller and Dr. Alan Bauman
Part One
Part Two
Part Three