8500 Wilshire Blvd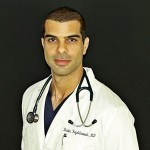 Suite 1010
Beverly Hills, CA 90211
Phone: 310-652-6444
Fax: 866-607-6220
Website: http://www.alviarmani.com/
Email: info-bh@alviarmani.com
Dr. Baubac Hayatdavoudi is best known in the hair transplant industry for his high ethical, clinical, and artistic standards of excellence.
Dr. Baubac's passion and meticulous dedication is focused on ensuring that the ideal outcome is achieved for each single graft that is implanted. The highest standard of care can be traced to his medical and educational background.
Born in Jefferson City, Missouri, Dr. Baubac Hayatdavoudi graduated as an honored member of Phi Beta Kappa with Magna Cum Laude in biology from the University of California, Santa Barbara, a place where he was able to study various art philosophies in pursuing his artistic endeavors as the photographer for the Daily Nexus, the local newspaper. He then obtained his medical doctorate from the University of California, Irvine and his path led him to Los Angeles where he completed his residency at UCLA/Wadsworth, receiving his board certification. Dr. Baubac Hayatdavoudi has been voted the "Resident of the Year" in all years of his tenure there.
Dr. Baubac Hayatdavoudi has a special interest in the artistic and humanistic aspect of hair restoration where his skill set and artistic pursuits in performing the complexities of hair transplantation converge to ensure that each patient's expectations will be surpassed with the highest standards of excellence, compassion, and artistry.
Dr. Baubac Hayadtavoudi has been selected as a TOP 100 doctor on real self, making him one of only 100 doctors worldwide to receive the RealSelf 100 Award, a prestigious award honoring the top influencers on RealSelf.
He is renowned in Beverly Hills and beyond for his expertise, and has been featured on television and in magazines. For his hard work and dedication, Dr. Baubac Hayatdavoudi has been named Aesthetic Everything's Top Hair Restoration Surgeon in 2015, and is the two-time recipient of the Consumer Choice Award in 2015 and 2016. He attributes his success to his unrelenting pursuit of FUE and hair restoration advancement.
His specialties include follicular unit extraction (FUE) hair transplantation, hair line hair restorations, and larger mega session transplants.
Located in Beverly Hills, California, patients travel from all over the United States, Canada and Western Europe to have their hair restoration performed by Dr. Baubac.
Dr. Hayadtavoudi is recommended by The American Hair Loss Association and The International Alliance of Hair Restoration Surgeons.