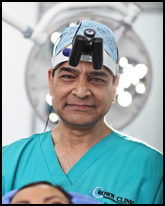 Crown Clinic
Global House
16 Bailey Lane
Manchester
M90 4AB
United Kingdom
Phone: 0345 2 100 300
Phone: +44 (0) 161 437 4333
Fax: +44 (0) 161 437 4334
– – – – – – – – – – – –
10 Harley Street
London
W1G 9PF
England
Phone: 0345 2 100 300
Phone: +44 (0) 161 437 4333
Fax: +44 (0) 161 437 4334
Website: http://www.crownclinic.co.uk
Email: info@crownclinic.co.uk
Asim Shahmalak is an eminent hair transplant surgeon who owns and runs Crown Clinic in Manchester – one of the UK's most successful and best-known hair transplant clinics.
Dr Shahmalak treats men and women and around 80% of his patients have FUE (follicular unit extraction) hair transplants to treat pattern baldness.
He performed the UK's first eyelash transplant in 2009 and he is one of the few surgeons in the world to also perform eyebrow, beard and sideburn transplants.
A skilled broadcaster who regularly appears on TV and radio to explain the benefits of hair restoration, Dr Shahmalak is also widely known for his charitable work in Pakistan – providing free hair, eyebrow and eyelash transplants for the victims of acid attacks.
He works with a number of famous clients and has provided hair transplants for the TV doctor Christian Jessen, the model Calum Best and the international footballer Didi Hamann amongst others. Dr Shahmalak trained as a general surgeon and has been working privately as a consultant hair transplant surgeon since 2006.
Dr. Shahmalak is recommended by The American Hair Loss Association and The International Alliance of Hair Restoration Surgeons. .