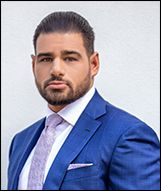 Miami Hair Institute
3850 Bird Road
Suite 102
Miami, FL 33146
Phone: 305-448-9100
Phone: 305-448-1050
Website: http://www.miamihair.com/
Email: draron@miamihair.com
Aron Nusbaum, M.D. specializes in hair restoration surgery and medical treatment of hair loss. He is certified by the American Board of Dermatology and is a Fellow of the International Society of Hair Restoration Surgery and the American Academy of Dermatology. Dr. Nusbaum received the Award for Excellence in Dermatologic Surgery during his Dermatology Residency at the University of Miami where he developed expertise in hair disorders working with world-renowned faculty in the field. He is a graduate of the prestigious Medical Scholars Program at the University of Miami where he completed his Bachelor of Science Cum Laudeand M.D. degrees with Research Distinction. Dr. Nusbaum has extensive research experience having received several First Place National Awards during his Fellowship in Regenerative Medicine at the University of Miami Department of Dermatology and Cutaneous Surgery.
Dr. Nusbaum is widely published in the medical literature with articles and book chapters focusing on surgical hair restoration and medical hair loss treatment. Some examples are: "Novel Treatment Modalities for Hair Loss" in the textbook Alopecia; "Recipient Area Complications" and "Dermoscopy and Scalp Biopsy in the Hair Transplant Evaluation" in the textbook Hair Transplantation by Unger and Shapiro (considered "the bible" text in hair restoration); "Commentary… to Assess the Efficacy of Platelet-Rich Plasma on the Treatment of Androgenetic Alopecia" and "A comparison of apoptotic activity for Follicular Unit Extraction hair grafts stored in different holding solutions" in Dermatologic Surgery; "Platelet Concentrations Achieved by Different Commercial PRP Systems" in Hair Transplant Forum International; "Non-Surgical Therapy for Hair Loss" in Facial Plastic Surgery Clinics of North America. Dr. Nusbaum has contributed to the education of other hair restoration surgeons at the prestigious Annual Meeting of the International Society of Hair Restoration Surgery lecturing on the novel technique of dermoscopy to diagnose hair disorders in the hair transplant consultation as well as the use of immunohistochemistry to detect protection against hair follicle cell death with the use of advanced graft storage media.
Dr. Nusbaum practices with his father, Bernard Nusbaum, M.D. and Paul Rose, M.D., both internationally renowned leaders in the hair transplant field. Dr. Nusbaum personally does all of his own consultations and performs strip FUT with trichophytic closure, robotic and manual FUE, body hair transplants, and revision/repair cases. His patients reside locally and also travel from all over the world especially Central and South America as Dr. Nusbaum is fluent in English and Spanish.  His practice is centered on the principle of striving for excellent results in every single patient with the utmost honesty and integrity.
Dr. Nusbaum is recommended by The American Hair Loss Association and The International Alliance of Hair Restoration Surgeons. Ask Dr. Nusbaum a question on The IAHRS Hair Transplant Info Center.