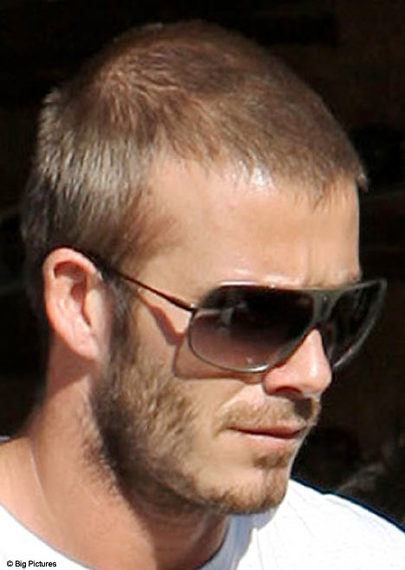 As hair loss sufferers  we all want to feel less alone in our process, and identifying with celebrities, especially those considered to be sex symbols is extremely common in our community.
In TBT UK contributors' latest Huffington Post blog, Spencer (Spex) Stevenson breaks it down for David Beckham, who is obviously dealing with male pattern baldness and gives him and Huff post readers some invaluable advice when researching their  hair restoration options.
Check out:
David Beckham: Losing Control of His Hair
Eyelash transplantation is an extremely specialized procedure performed by only a handful of hair transplant surgeons in both the U.S. and the U.K.
IAHRS accepted member Dr. Asim Shahmalak has been specializing in this life changing hair restoration technique since 2009 and took the time to speak with Spencer Kobren about the profound psychosocial issues associated with the loss of one's eyelashes as well as how to permanently get them back.
Spencer Kobren's The Bald Truth is internationally syndicated through the GFQ Network
On this week's Spencer Kobren's The Bald Truth, Chicago hair transplant surgeon Dr. William Yates joins the show to discuss his own hair restoration experience as well as his approach to treating younger patients. Spencer Kobren also fields calls and answers questions from the chat room.
For daily updates on the world of hair loss follow Spencer Kobren on Twitter @spencerkobren

Subscribe: iTunes (audio) | iTunes (video) | Zune (audio) | Zune (video) | RSS (audio) | RSS (video)
Audio:
Spencer Kobren's The Bald Truth is internationally syndicated through the GFQ Network
In the UK and Australia, Jason Gardiner is best known to audiences for his role as a judge on the hit TV show Dancing on Ice (Granada/ITV), but to TBT fans here in the U.S. and abroad, Jason has become the poster boy for successful, state of the art surgical hair restoration. Jason has put himself out there to help others struggling with hair loss in hopes to both educate and empower hair loss sufferers by proudly letting the world know that it's ok to mourn the loss of your hair and to do something about it.
See Part 1 of Spencer Kobren's exclusive live intraoperative interview with Jason and his surgeon, IAHRS accepted member Dr. Craig Ziering.
Part 2
Andrew Zarian, Founder of the GFQ Network joins Spencer Kobren for the live streaming event.
Dr. Jerry Cooley's ACell MatriStem Slide Presentation Is Now Available To View:
Part 1 & 2
Part 3 & 4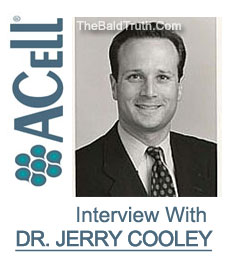 Spencer Kobren speaks with IAHRS accepted member and current ISHRS President, Jerry Cooley M.D. about ACell MatriStem, a product that some are saying is the most groundbreaking development in the fight against hair loss since the FDA approval of Propecia.
Listen To Part 1 of The Exclusive Interview
Jerry Cooley, MD: I started working with this wound healing product about a year and half ago, and initially got some promising results. It's taken me definitely some time to understand it and understand what worked well and what didn't, as well as just to see long term results. One of the things I've been doing in the last few months is just making a real concerted effort to bring people back in, which is not really that easy, but just to really look very closely at my results and I've just gotten that much more excited about it.
[ Listen to Full Interview Below ]
Fear mongering anti-Propecia videos and websites are popping up all over the internet making the decision to effectively treat hair loss even more confusing. Should consumers be legitimately concerned by claims of permanent long term adverse side effects from the drug, or are these videos and websites simply agenda driven anti-Propecia propaganda?
IAHRS accepted member William H. Reed, M.D. discusses his findings of an informal study in which he polled 17 hair restoration practices that have treated more than 30,0000 patients with the drug.
The bottom line: Out of more than 30,000 patients who were prescribed Propecia, not a single one has ever complained of long-term irreversible side effects of any kind.
Listen to the interview:
Hair transplant surgery can be life changing, but choosing the right hair transplant surgeon can be an extreme challenge. Unfortunately, the field at large is still slow to adopt the true state of the art techniques being developed and shared by the select members of The International Alliance of Hair Restoration Surgeons. Listen as Harry calls the show to share his life changing experience of undergoing a successful hair transplant surgery with IAHRS accepted member Dr. Jerry Wong.
Let's face it: most of us are not physically or emotionally equipped to peacefully accept our hair loss and seamlessly transition into baldness.  Not every one of us is born with the physical and mental statures of bald iconic legends like Bruce Willis, Vin Diesel, or Chris Daughtry, who can wear the look of baldness with natural ease and still draw hundreds of millions of dollars in box office revenues, allure screaming fans, or stage mind-blowing rock shows half-filled with half-naked supermodel-caliber chicks ready and willing to get funky backstage.
Yes, for the vast majority of us hair loss sufferers, witnessing the daily erosion of our hair, arguably the key proponent of our physical appearance to the world, is on par with experiencing a long, swift kick in the nuts.  It hurts, period.  Sometimes, in fact very often, the emotional debilitation caused by our hair loss paired with our desire to bring a level of correction to this reprehensible biological defect is so severe that we commit ourselves to today's most aggressive hair loss solution on the hair loss solution spectrum: surgical hair restoration. [Read more]
Politico.com is talking about vice presidential candidate Joe Biden. They're not discussing his policies or evaluating his level of experience on foreign policy, and they didn't even mention his running mate, presidential candidate Barack Obama.
Well, maybe that's because Barack still has a full head of hair.
What the Politico article is talking about is Biden's Helmet, the term they're using to describe the senator's current hairstyle. Apparently, Biden had a hair transplant when he was younger, with less than aesthetically pleasing results.. The initial procedure was performed a long time ago, and several hairstylists and hair loss experts who have followed Biden's career provided remarks and commentary about the senator's hairline.
Michael Beehner M.D., IAHRS member and Medical Director of the Saratoga Hair Transplant Center in New York noted, "When he had darker hair it was pretty obvious, he had larger plugs. With the lightening of his hair, it looks much, much better now."
"Years ago, it was much more detectable," said an anonymous surgeon, who also noted that the pattern of Biden's hairline, "did not follow the normal path of baldness." [Read more]