After more than fourteen years as America's most recognized and longest running Sunday night, self help radio program in broadcasting, The Bald Truth is now going primetime.
TBT has recently been given the green light to broadcast LIVE on Tuesday nights from 8pm EST- 10pm EST and will be syndicated internationally both live and on demand. This  move comes at a pivotal time in the history of broadcasting as both terrestrial and satellite radio are rethinking their programming strategies to compete with the staggering growth of Internet broadcasting.
With killer apps like SticherRadio, where you can listen to all of your favorite talk shows live or on demand from your smartphone, tablet, and laptops, niche programming like Spencer Kobren's The Bald Truth have grown well beyond the limits of  traditional radio and are reaching thousands of more dedicated listeners than ever thought possible. [Read more]
Tune in to watch IAHRS Accepted Member Dr. James Harris and his team perform the worlds first live streamed robotic hair transplant tomorrow, Friday, October 28th, 12 noon EST, 9am PST.
This interactive broadcast will be co-hosted by Spencer Kobren and GFQ Broadcasting Network's, Andrew Zarian and can be viewed worldwide on www.thebaldtruth.com and through the GFQ network.
The broadcast can also be viewed and listened to on most smart phone devices and tablets through recourses including Itunes radio, Stickam,.com, Ustream.com or by going to www.GFQlive.tv.
Call our studio line 1-888-659-3727 to speak with Dr. Harris, his patient and his staff during the procedure or join us in the chat room to interact with other hair loss sufferers and industry experts watching the broadcast.
This is a show you wont want to miss. Hope to see you there!
The hair loss world has been buzzing ever since the news broke that a team of UCLA scientists accidently reversed baldness in mice while conducting studies on their digestive function.
While many people are hopeful that this might help lead to more effective hair loss treatments for men and women, there are several critics that are doubtful that this finding will result in anything favorable for the hair loss community.
Spencer Kobren took the opportunity to interview the senior investigator of this study, Yvette Taché, Ph.D. In the interview Dr. Taché describes how her research team made this hair loss reversing discovery, and she also talks about how this may help people dealing with all forms of alopecia.
Only time will tell if this discovery turns out to be helpful in finding effective treatments or even a cure for common male and female pattern hair loss.
Listen to the interview:
http://www.baldtruthtalk.com/showthread.php?t=4460
Read More: http://latino.foxnews.com/latino/lifestyle/2011/02/18/treatment-stress-grows-hair-mice/#ixzz1ELrKQsaE
Hopes are high for the use of ACell's MatriStem in the world of hair restoration, but hair loss sufferers need to understand that effective results are both user and protocol dependant. Only time will tell which physicians are utilizing these experimental techniques effectively, and as many of you know, recent history has shown that when used incorrectly this extracellular matrix is completely useless.
There are specific methods of application and maintenance that must be adhered to when utilizing ACell MatriStem in all of its applications, and hair restoration is no different.
It's important for the hair loss community to be fully informed and to have an accurate history of today's groundbreaking developments. We also think it's important to pay homage to those in the field who are leading the way with these cutting edge developments.
There is no doubt that the original pioneer for the use of ACell MatriStem in hair restoration is New York hair transplant surgeon Gary Hitzig, M.D., who has been experimenting with the product in his practice for the past couple of years.
On November 4, 2010 Spencer Kobren had the opportunity to speak with Dr. Hitzig about his groundbreaking experiments and about the true history of the use of ACell MatriStem in the fight against hair loss.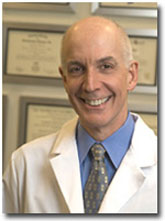 Spencer Kobren had the opportunity to speak with IAHRS accepted member, Dr. Robert Bernstein, about his thoughts on the role ACell MatriStem might play in the future of surgical hair restoration.
Dr. Jerry Cooley's ACell MatriStem Slide Presentation Is Now Available To View:
Part 1 & 2
Part 3 & 4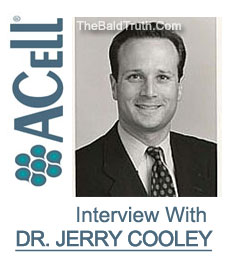 Spencer Kobren speaks with IAHRS accepted member and current ISHRS President, Jerry Cooley M.D. about ACell MatriStem, a product that some are saying is the most groundbreaking development in the fight against hair loss since the FDA approval of Propecia.
Listen To Part 1 of The Exclusive Interview
Jerry Cooley, MD: I started working with this wound healing product about a year and half ago, and initially got some promising results. It's taken me definitely some time to understand it and understand what worked well and what didn't, as well as just to see long term results. One of the things I've been doing in the last few months is just making a real concerted effort to bring people back in, which is not really that easy, but just to really look very closely at my results and I've just gotten that much more excited about it.
[ Listen to Full Interview Below ]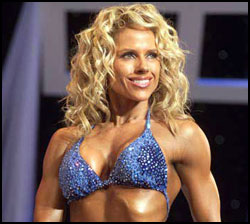 Since her first appearance as a cover girl for Muscle & Fitness Magazine in November of 1994, Monica Brant has skyrocketed to the top of the female fitness world. As one of the most sought after athletes and models in the field, the 2010 WBFF World Pro Figure Champion has been referred to as "the most important figure in the history of the women's fitness movement!"
On Tuesday, October 5th 2010 Monica Brant will be making history once again by being the first woman to undergo a hair transplant procedure LIVE on the World Wide Web. Monica has chosen IAHRS accepted hair transplant surgeon Dr. Dan McGrath of Austin Texas to perform the hairline lowering procedure, and has been gracious enough to allow cameras into the operating suite in order to share her experience with the world LIVE on The Bald Truth.
As always, we'll be taking your calls, and both Dr. McGrath and Monica Brant will be available during the broadcast to answer your questions.
The live broadcast and Q&A session begins right here on The Bald Truth at 1:30pm EST/ 10:30PST. The toll-free studio line is 1-877-885-0007
Hope to see you there!
No matter how well a person responds to Propecia, there are some men who seem to eventually see the hair raising effects of the drug wane over time. Does Propecia lose its effectiveness? If so, what can be done stop the further progression of hair loss?
Listen to the segment:

Fear mongering anti-Propecia videos and websites are popping up all over the internet making the decision to effectively treat hair loss even more confusing. Should consumers be legitimately concerned by claims of permanent long term adverse side effects from the drug, or are these videos and websites simply agenda driven anti-Propecia propaganda?
IAHRS accepted member William H. Reed, M.D. discusses his findings of an informal study in which he polled 17 hair restoration practices that have treated more than 30,0000 patients with the drug.
The bottom line: Out of more than 30,000 patients who were prescribed Propecia, not a single one has ever complained of long-term irreversible side effects of any kind.
Listen to the interview:
Scientists from from Colombia, Rockefeller and Stanford Universities, believe they have discovered a gene that significantly  impacts hair growth as well as hair follicle miniaturization; the phenomenon that is the cornerstone of male and female pattern baldness.

The gene identified is named APCDD1 (adenomatosis polyposis down-regulated 1), and was found in patients suffering with hereditary hypotrichosis simplex, a condition that usually presents itself in childhood. Hereditary hypotrichosis simplex is a rare autosomal dominant form of hair loss characterized by hair miniaturization, a process in which the hair follicle actually shrinks and normal thick terminal hair is gradually replaced with fine, velus hair.
[Read more]