Many hair transplant veterans believe that undergoing surgical hair restoration is one of the best decisions that they've ever made. These patients explain that the restored confidence that comes with their new and improved hairlines makes them feel as though they have a second chance in life, and that the costs involved are worth every penny. However, for some, this new found confidence also comes with the new found anxiety of eventually losing more hair and needing more surgeries to make them feel whole again.
Spencer Kobren speaks with one very happy hair transplant patient who is experiencing these all to common concerns.
Listen to the segment:
Since The Bald Truth first posted Spencer Kobren's exclusive interviews with ACell MatriStem pioneers in hair restoration Gary Hitzig, M.D. and Jerry Cooley, M.D., the hair loss world has been buzzing with excitement. The number of emails being received by The Bald Truth, the IAHRS and The American Hair Loss Association have been overwhelming, illustrating just how hungry the world's hair loss sufferers are for accurate information regarding this groundbreaking hair restoration technology.
As desperate as the hair loss community is to finally find a universally effective treatment for this devastating disease of the spirit, the hair loss industry recognizes this desperation and will likely find ways to exploit it. Our advice it to proceed with caution and realize that at this time, few physicians truly understand how to utilize ACell MatriStem in hair restoration correctly and that this process, even in the most capable hands, is still in its experimental stages.
Caveat Emptor "Let The Buyer Beware"
View Dr. Gary Hitzig's Acell Matristem for Hair Restoration Presentation
Hopes are high for the use of ACell's MatriStem in the world of hair restoration, but hair loss sufferers need to understand that effective results are both user and protocol dependant. Only time will tell which physicians are utilizing these experimental techniques effectively, and as many of you know, recent history has shown that when used incorrectly this extracellular matrix is completely useless.
There are specific methods of application and maintenance that must be adhered to when utilizing ACell MatriStem in all of its applications, and hair restoration is no different.
It's important for the hair loss community to be fully informed and to have an accurate history of today's groundbreaking developments. We also think it's important to pay homage to those in the field who are leading the way with these cutting edge developments.
There is no doubt that the original pioneer for the use of ACell MatriStem in hair restoration is New York hair transplant surgeon Gary Hitzig, M.D., who has been experimenting with the product in his practice for the past couple of years.
On November 4, 2010 Spencer Kobren had the opportunity to speak with Dr. Hitzig about his groundbreaking experiments and about the true history of the use of ACell MatriStem in the fight against hair loss.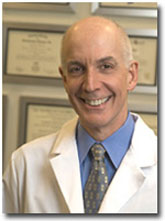 Spencer Kobren had the opportunity to speak with IAHRS accepted member, Dr. Robert Bernstein, about his thoughts on the role ACell MatriStem might play in the future of surgical hair restoration.