On October 5, 2010 more than 14,000 people joined our live video broadcast to view fitness icon Monica Brant undergo the world's first live streamed female hair transplant. Monica Brant chose Austin hair transplant surgeon and IAHRS accepted member Dr. Dan McGrath, to perform the surgery and they were both fielding questions from callers during the procedure.
Watch the clip:

Dr. Jerry Cooley's ACell MatriStem Slide Presentation Is Now Available To View:
Part 1 & 2
Part 3 & 4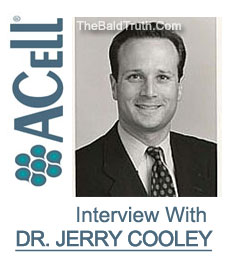 Spencer Kobren speaks with IAHRS accepted member and current ISHRS President, Jerry Cooley M.D. about ACell MatriStem, a product that some are saying is the most groundbreaking development in the fight against hair loss since the FDA approval of Propecia.
Listen To Part 1 of The Exclusive Interview
Jerry Cooley, MD: I started working with this wound healing product about a year and half ago, and initially got some promising results. It's taken me definitely some time to understand it and understand what worked well and what didn't, as well as just to see long term results. One of the things I've been doing in the last few months is just making a real concerted effort to bring people back in, which is not really that easy, but just to really look very closely at my results and I've just gotten that much more excited about it.
[ Listen to Full Interview Below ]
An estimated twenty percent of hair loss sufferers begin losing their hair in their early twenties, and learning to cope at such a vulnerable age can be challenging. While some people are better equipped to deal with hair loss than others, we all feel the same sense of loss. Developing the skills needed to successfully move forward in life as a hair loss sufferer is certainly a process, but one that can be achieved.
Listen to the Segment:
Most hair loss sufferers will try anything to treat their hair loss. Whether it's lotions or potions, surgical hair restoration or non surgical intervention, men and women dealing with hair loss are desperate to stop the painful process, and to try to move on with their lives.
Sadly, many in the hair loss industry prey on this vulnerability, and have no problem selling bogus products and services to desperate men, women and children searching for real help.
Even when considering legitimate hair loss treatments, consumers need to understand that all treatments have their limitations and not all hair loss sufferers will benefit from these treatments.
This is a harsh realty that many will refuse to accept and unfortunately these desperate consumers might be putting themselves in harms way if they choose to peruse treatment after being informed that they don't make the best candidates.
Spencer Kobren discusses this harsh reality and tells the story of one hair loss sufferer who just wouldn't take no for an answer.
Listen to the segment: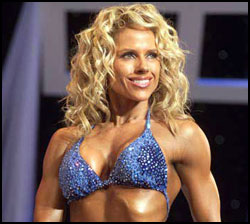 Since her first appearance as a cover girl for Muscle & Fitness Magazine in November of 1994, Monica Brant has skyrocketed to the top of the female fitness world. As one of the most sought after athletes and models in the field, the 2010 WBFF World Pro Figure Champion has been referred to as "the most important figure in the history of the women's fitness movement!"
On Tuesday, October 5th 2010 Monica Brant will be making history once again by being the first woman to undergo a hair transplant procedure LIVE on the World Wide Web. Monica has chosen IAHRS accepted hair transplant surgeon Dr. Dan McGrath of Austin Texas to perform the hairline lowering procedure, and has been gracious enough to allow cameras into the operating suite in order to share her experience with the world LIVE on The Bald Truth.
As always, we'll be taking your calls, and both Dr. McGrath and Monica Brant will be available during the broadcast to answer your questions.
The live broadcast and Q&A session begins right here on The Bald Truth at 1:30pm EST/ 10:30PST. The toll-free studio line is 1-877-885-0007
Hope to see you there!
The emotional struggles that hair loss sufferers face can be profound. Those not experiencing hair loss can never fully grasp the difficulties associated with losing your hair. Unfortunately, our society still views baldness as the last bastion of political incorrectness and many hair loss sufferers are made to feel "less than" by their contemporaries, their love interests and the media.
While it's not easy, it's important to understand that there is life after hair loss and learning to cope is key.
Watch the segment: