For most people, the thought of wearing a hair piece is practically a fate worse than death, but with today's advanced materials and online availability, choosing to wear hair can be a wonderful option for many.
Listen as James, a 23 year old college student, describes how hair loss has affected his life, and how he chose to successfully treat it with a combination of medication, and yes… a partial hair system.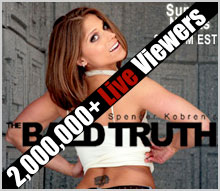 It's been more than twelve years since the The Bald Truth's first broadcast on New York's 770AM WABC, and as the longest running and most successful independent radio broadcast of its kind, the program has been said to have touched the lives of countless hair loss sufferers in search of honest advice and real hope.
This past Sunday, May 16th, The Bald Truth reached a critical milestone in the world of new media by becoming one of the most viewed, live weekly web casts on the internet, reaching more than 2,000,000 live viewers.
As broadcasting and media evolve so has The Bald Truth, and our ability to reach and to educate hair loss sufferers around the world. This recent milestone further underscores the need and the importance of unique and forward thinking resources to help better inform and support those in need.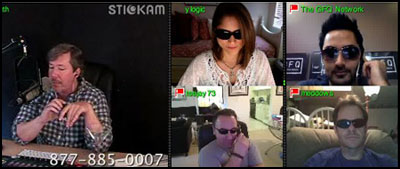 Last night 21,588 viewers checked into The Bald Truth's Tuesday night "Drink and Chat," as Spencer Kobren fielded calls and video chatted with hair loss sufferers from around the world. Men and women, ages 18-35 and beyond, looking for a live interactive platform to communicate with other hair loss sufferers have helped to make The Bald Truth's Tuesday night webcast one of the most viewed weekly live web offerings on the internet.
Providing an anonymous platform for those in need to call in, and to listen to anything and everything hair loss has always been the cornerstone of the success of the original Bald Truth broadcast, however, as "new media" is evolving, the relationship between broadcaster and audience is becoming even more interactive. TBT fans now have the opportunity to turn on their personal webcams and become part of the video stream, while still maintaining their anonymity if they choose to, simply by finding fun and creative ways of disguising their identity.
Spencer Kobren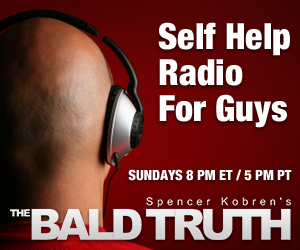 and Joe from Staten Island discuss some of he reasons why The Bald Truth has stood the test of time, and the importance of appreciating the things we have in life as opposed to focusing on what we might not have.
Listen to the segment:

Here's another short segment that further illustrates why hair transplantation can't seem to get out from under the stigma created, and perpetuated by the old self-serving guard of this field. Because of all the carnage caused in the past, and unfortunately still being caused by some in the field today, potential hair restoration patients find it difficult to believe that they can achieve the type of life changing results being presented by the elite members of the IAHRS. The good news is that great results are being achieved everyday. The lesson is, make sure to do your homework.
Listen to one shell-shocked patient's call as he discusses his feelings of betrayal and why he now has some serious trust issues when it comes to going through with his much needed repair surgery.
Hair transplant surgery can be life changing, but choosing the right hair transplant surgeon can be an extreme challenge. Unfortunately, the field at large is still slow to adopt the true state of the art techniques being developed and shared by the select members of The International Alliance of Hair Restoration Surgeons. Listen as Harry calls the show to share his life changing experience of undergoing a successful hair transplant surgery with IAHRS accepted member Dr. Jerry Wong.