Hair loss has always been considered an inevitable part of fighting cancer. Every year, The American Hair Loss Association receives countless e-mails from women across the world diagnosed with cancer who claim to be just as terrified of chemotherapy-induced hair loss as they are of their cancer itself. Sadly, many women are willing to consider alternative unproven treatments, just to avoid losing their hair to chemotherapy.
While most patients and physicians accept the inevitability of hair loss as being a part of successful cancer treatment, having the ability to avoid chemo-induced hair loss (anogen effluvium) would make the treatment process considerably more palatable, allowing patients to concentrate more on healing as opposed to what they look like during treatment.
Now there is hope. [Read more]
Now TBT listeners can instantly access The Bald Truth from the palm of their hands. Watch the live Sunday night broadcast from anywhere in the world for free by simply downloading the Stickam Mobile Viewer to any java enabled smart phone. Watch the show, interact with the crew and other TBT fans through the live chat, or simply listen on the road. Set up is easy, and It's FREE!
*No Satellite Subscription Fees
*No Terrestrial Radio Market Restrictions
*Works With Your Car's Bluetooth Audio System
*Works on iPhone, Android and Most Java Enabled Phones
Never miss a live broadcast again!
For the free download visit:
m.stickam.com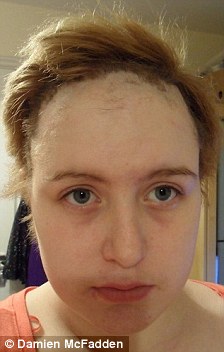 A devastated 19 year old administrative assistant says that her hair literally broke off at the roots after using Pantene Pro-V shampoo. According to Sophie Peppercorn of Perbourough, England, her hair fell out in clumps after only one application of the celebrity endorsed product, and has received very little support from Procter and Gamble, the makers of Pantene. Miss Peppercorn wept as she described to reporters what happened. "As I showered the bubbles from my hair I could feel a lot of it in my hands," she said.
She then went on to state, "But it was only when I patted my hair dry with a towel and looked in the mirror, that I realized the extent of the hair damage. My hairline had receded several inches where my hair had broken off at the roots. Meanwhile, the rest of my hair was so damaged and frizzy it was breaking off in handfuls. I was so devastated, I broke down in tears."
When Miss Peppercorn called the Pantene helpline to inform them of what had happened to her she was offered a £5(about $8USD) Pantene coupon for her troubles.
"Incredibly, they seem to think I will want to buy another bottle," she said.
The Food & Drug Administration said Tuesday that it will be taking steps to regulate the three most potent forms of medical radiation. With that, it will require that manufacturers of certain CT scanning equipment redesign machines to incorporate safeguards aimed at reducing patients' exposure to radiation.
The decision comes on the heels of several recent alarming reports of accidental overdoses of radiation from miscalibrated CT scanning machines.
Last October, Cedars Sinai Medical Center in Los Angeles disclosed that more than 200 patients had accidently received extremely high levels of  radiation during CT scans of their brains.  The FDA later stated that patients were exposed to eight times the amount of radiation typically used during the a CT scan, and that accidental exposure to very high amounts of radiation can cause severe injuries, such as burns, radiation induced hair loss, cataracts, and cancer.
Hair Loss can be devastating, but at least balding guys wont starve in Tulsa Oklahoma.
Customers of the Arizona Mexican Restaurant, at 6605 South Lewis Avenue in Tulsa, who meet their "balding criteria" receive between 10 to 30 percent off of their meals every Tuesday.
The brain child of Heyka Zambrano, the restaurant's owner, Bald Tuesdays has been in effect for about a year and was implemented as a way to increase business,  which is apparently working.
"Gentlemen come in and sometimes they wear their hats.  They come to pay and take the cap off and I say, what do you think, is this worth 30 percent?"
Well, we guess it's better than a kick in the ass!
According to a national survey conducted by Wakefield Research on behalf of the makers of Rogaine, Americans have a "surprising" lack of understanding concerning the prevalence, incidence, causes, and how to effectively treat hair loss. The survey concludes that more than 75 percent of Americans incorrectly cite stress as a leading cause of hair loss, while more than one-third think wearing a hat and over-styling hair can cause common male and female pattern baldness.
So what if obesity is considered one of America's biggest killers, leading to heart disease, diabetes and strokes? The stats say it all, "40 percent of married Americans would rather their spouse be overweight than bald!"
While we appreciate the effort on the part of Wakefield Research and Rogaine to shed some light on society's utter lack of knowledge and empathy when it comes to hair loss, we definitely think their time and resources could have been better spent. Hair loss sufferers make up the largest demographic of all human kind, yet in our opinion, the makers of Rogaine still can't find a way to effectively educate hair loss consumers about a product that actually works. [Read more]